Welcome to Our Website
Standard Poodles for sale in AZ
Standard Poodle Breeder in AZ, Standard Poodle Puppies in AZ, Prospective Service Dogs, Standard Poodle Therapy Dogs – Committed Service Dog Breeder
Let us assist you in finding your "Best In Home"
INTEGRITY EXPERTISE LOVE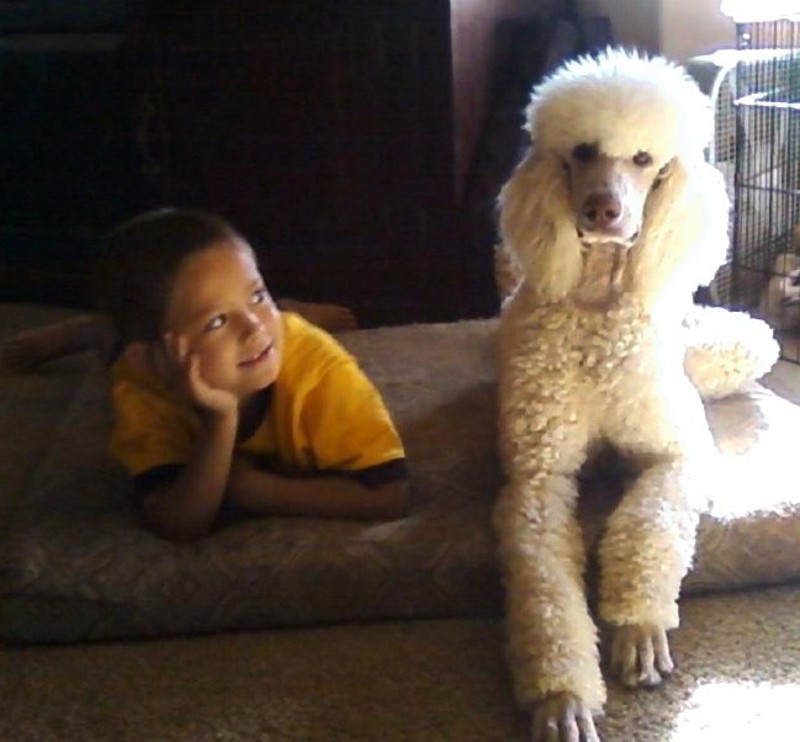 Springer Clan Standard Poodles
Surprise, AZ
A few FACTS off the top:
SCSPoodles NEVER DOODLES. Period. Please don't ask.
SCSPoodles does NOT offer Stud services. We have our own lines and unless your bitch has something to offer our lines, we just don't offer our proven boys up to the public. If you think you have a special female with great lines, give us a ring and show us her testing and lineage….then we shall see.
SCSPoodles "owns" many dogs……however, they DO NOT live with us. They live with their own families, are raised by them, and retire with them. These are FOSTER homes, the dogs will come to us for breeding and delivering of litters (females have 3 litters and are retired to their families). SCSPoodles has 3 "resident" Poodles – 2 of which are our sons Service Dogs. We DO NOT believe or participate in a yard full of "kennel dogs".
All the dogs you see on our website LIVE WITH ANOTHER FAMILY OF THIER OWN!
SCSPoodles genetically tests our dogs using Vetnostics & Embark.
SCSPoodles has our dogs OFA Hip Evaluated before they are retired.
SCSPoodles posts testing performed on each of the dogs profile pages.
All Litters are born and cared for the first 4 weeks of their lives in MY ROOM. Then moved to an outside location for daytime playtime till they are 8 weeks old. Then moved back inside from 8-12 weeks for crate and foundation training (additional charge).
All Litters are raised using several Puppy Culture techniques, as well as other techniques learned along the 27 years of breeding and training dogs to expose them and create a foundation of confidence for you to continue training.
SCSPoodles does not show any of our dogs AKC or UKC in conformation, for no other reason except we just don't have the time. We do work with many breeders that not only have the time but the drive to do so, and respect what they do for the breed. Many of our dogs do work in hunting, agility, dock diving, show, therapy, service, and many other facets of the dog world and we are very proud of those accomplishments.
SCSPoodles has a Deposit List for each litter….this is NOT a first come first serve list. This is a list that allows future owners to become involved with a litter list that they prefer based on size, temperament, color, and gender. Temperament is the utmost importance in placing any pup with any family. SCSPoodles directs each family to the best fit for what they need and want. The Deposit List is simply a way for families to secure their preferences and for SCSPoodles to determine what pairings the general public wants and needs so that we pair up our dogs to also fit what families want.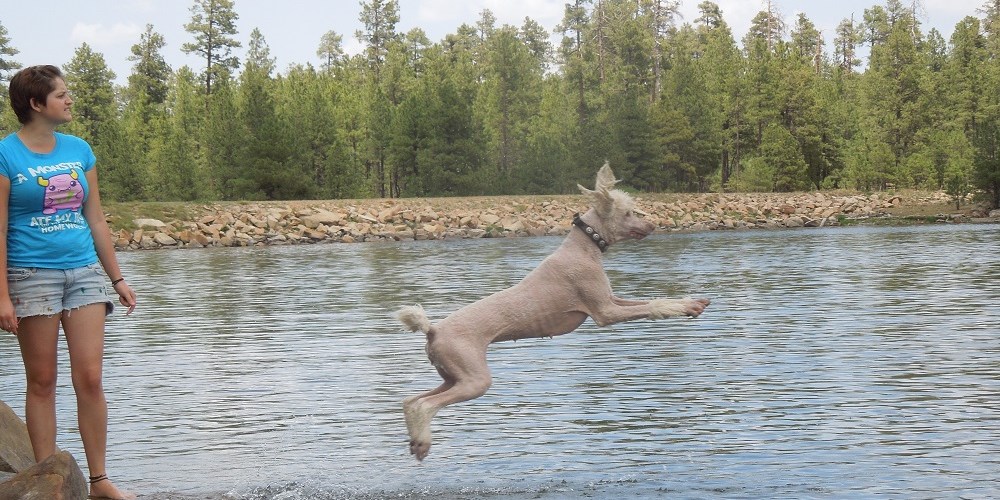 We are located in "The Valley of the Sun", Phoenix, AZ area most of the time and spend some time in Fallbrook, CA (San Diego area). In Phoenix, AZ we live on 3 acres. All of our dogs enjoy roaming the majority of those acres in Phoenix, AZ and interact with our children, grandchildren, horses, cats, and chickens, Guinea Fowl, sheep, pigs, and goats, on a daily basis. Breeding our dogs is something that brings us joy.
Our dogs are a huge part of our life especially considering that we have 2 sons with Epilepsy who have their very own Standard Poodle Service Dogs. These dogs play, work, travel and do just about everything with us. We are a very active family and because of that our dogs are well socialized in many different settings. We raise each of our dogs as if they were going to be a Service Dog.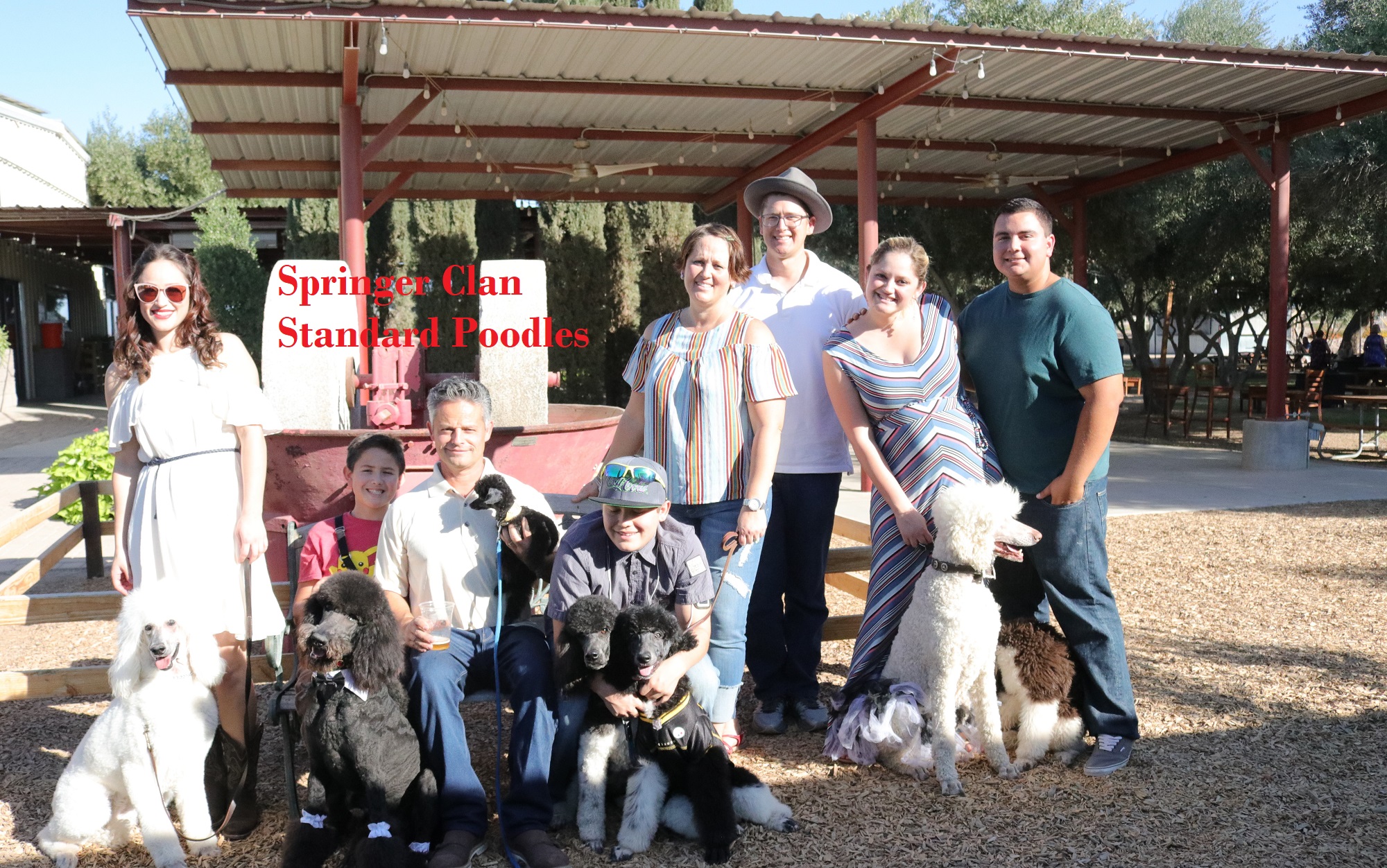 The main concern of Springer Clan Standard Poodles is to produce healthy, intelligent, sound, versatile dogs so they easily fit into your family life and are able to perform any task that you may ask of them. We strive to develop long term relationships with every family that adds one of our puppies to their life, and we take that responsibility seriously. We are here to help you make the best decision when choosing your new puppy and will be with you through the many years after adding one of our pups to your family. If we had the time, we would show our dogs in AKC and UKC events, however, with running a ranch, homeschooling, caring for 2 epileptic children and so on, it just is not a priority to us to show. A quality dog….is a quality dog, shown or not.
WE DO NOT DOODLE! No exceptions please do not ask! The reason for this firm stand is to show respect for pure bred dog breeders of both our beloved Standard Poodle but also all the breeds that are "mixed" with them. These pure bred dog breeders put their lives into breeding quality pure bred dogs, and not hybrids or dare we say "mutts" that are unpredictable as they mature. We mean no disrespect to those that choose to Doodle, it is a personal choice, and we have made ours.
We also do not sell our puppies for breeding purposes and will NOT participate in ANY "unregistered", "Lost" registries, Bogus registries (CKC or the like), or "Limited AKC Registration" breeding's of any kind, so do not inquire if you know your dog falls into any of the above categories.
A few of the litters produced for our families!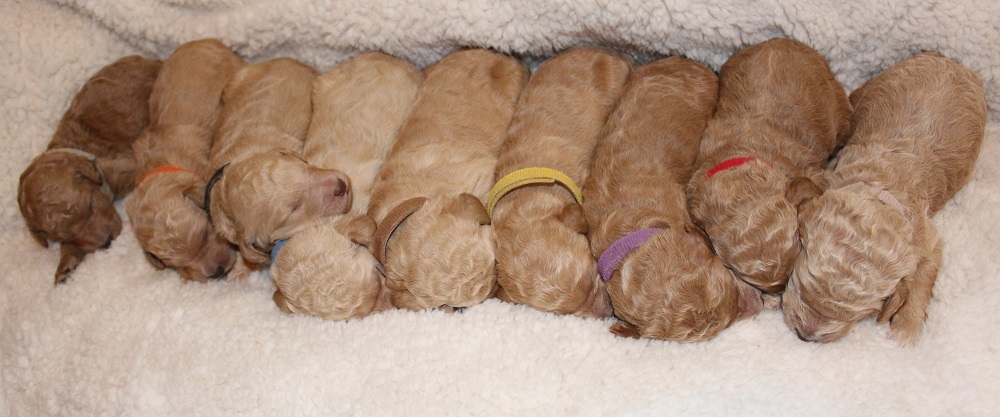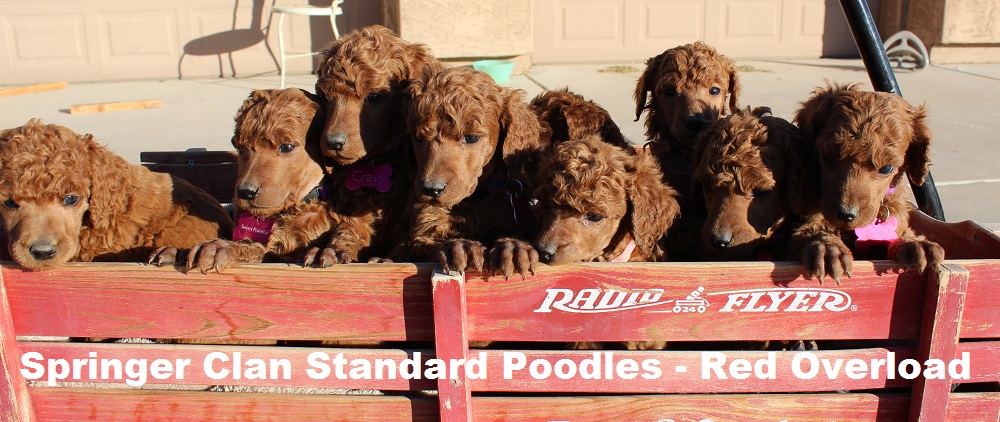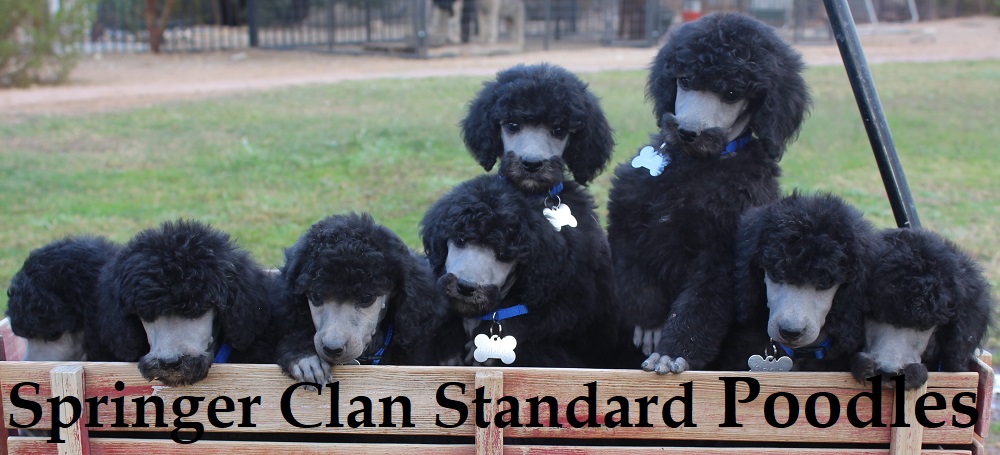 When you purchase a puppy from Springer Clan Standard Poodles you are getting much more than just a puppy. You are choosing a dog bred with integrity and raised with an educated focused training from birth on. They are loved, and guided using some of the methods found in "Puppy Culture" and some we have devised on my own over the years. This guarantee's that you will get a puppy that is not only willing to learn, but more importantly is DRIVEN to learn and please you no matter what you direction you choose to go with your new family member. You really are, in all truth, joining our family.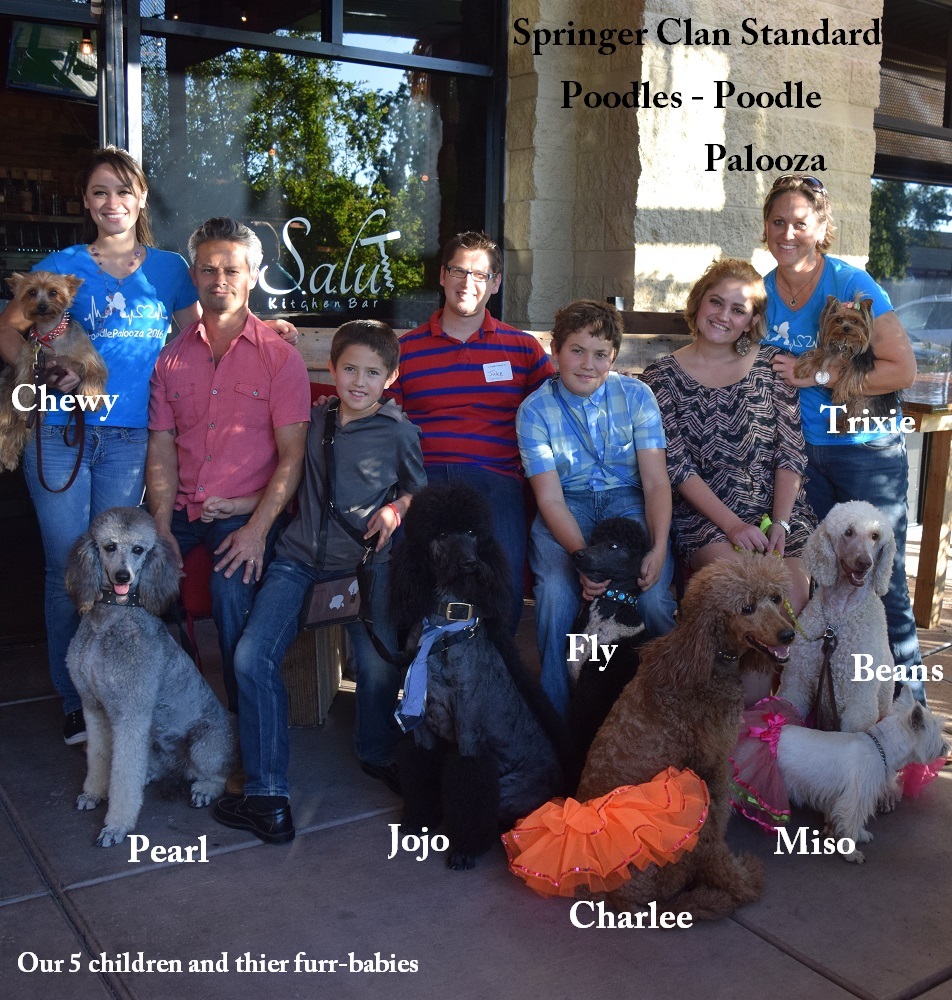 We think that Standard Poodles are the perfect dog for everyone due to their intelligence and adaptability to any family life that they are introduced to. Standard Poodles are naturally smart, as you well know, however Springer Clan Standard Poodles are raised using the Puppy Culture protocol. This has allowed us to focus on raising confident puppies who excel as Service Dogs (in all the different aspects of that work) as well as family dogs that are exceptionally easy to train because they LOVE to learn! They are calm when required to be indoors and yet athletic when outdoors. Standard Poodles love to learn and they learn very quickly. They have wonderful temperaments and get along with just about everyone, yet, when they need to protect the ones they love they will not hesitate. Standard Poodles are labeled hypoallergenic, which means they shed very little and have minimal dander, therefore, they are able to be companions to most anyone who is allergic to animals.
Pricing has been a hot topic for us and we really get annoyed when other breeders don't list what their prices are. After all this IS a practical factor when deciding from whom and when to purchase a puppy. We have decided that our prices for our quality raised and genetically tested, pure bred pups will be:
As of 6.1.2023
ALL OUR PUPPIES ARE $2800.00 (LIMITED AKC) – Regardless of color or gender
No breeding rights aka "Limited Registration"
The only exception will be if we have a rescue litter, and even then this will be on an individual litter/dog basis. The older a puppy becomes the higher the price becomes since they will will have much more training when they are taken from our home to yours.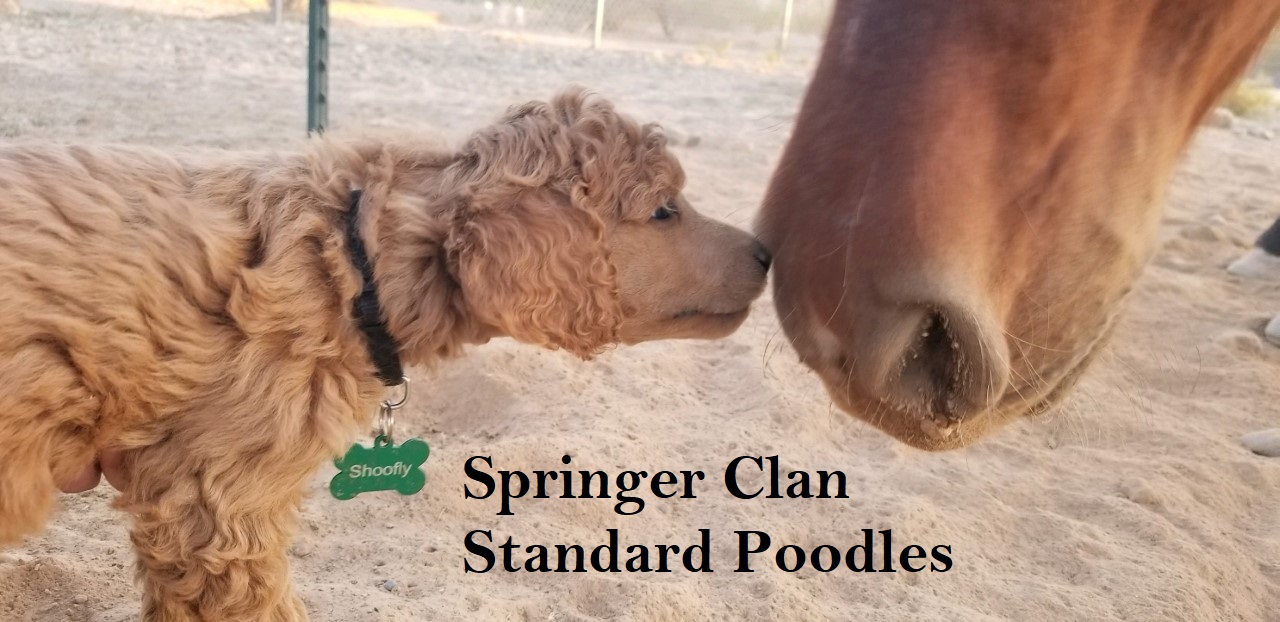 What you can expect from us, Springer Clan Standard Pooodles located in Surprise, AZ:
Socialization: To see our family socializing the pups – check out our YouTube videos you will be laughing the entire time!
From Birth until they go home, puppies, are raised using some of the "Puppy Culture" method as well as training techniques we have developed over many years of breeding and raising pups.
Puppies are handled daily from the moment of birth until the day they leave our family to join yours.
Puppies are exposed to cats, horses, goats, chickens, cows at times and our other dogs daily and learn to get along with everyone.
The Springer Clan home is an activity hub. Lots of noises, voices, movements, and crazy quads, lawn mowers, diesel engines, leaf blowers daily (for dust on my porch), grooming vacuums and clippers, screaming children, and motorcycles constantly all around your new puppy. This exposes them to many sounds so that they are confident around loud situations. The noise just becomes "normal". (If you have ever been to our home, there is a smile on your face.)
Health:
By the third day all puppies have their first examination, tails are docked and dew claws removed by my vet.
We allow puppies to nurse as long as the mother remains healthy. This gives every puppy the best start in life.
Every litter is protected from communicable diseases by allowing no one outside our family or those with deposits near them until one week after their first series of shots.
All puppies are given a series of shots at 6 and 8 weeks of age.
Every puppy is wormed before going home with their new family.
Every puppy (full price) will be micro-chipped at 8 weeks of age
Grooming:
Since Poodles will be groomed their entire life, we begin at birth by getting them accustomed to being handled.
At four weeks old puppies are introduced to the process of grooming by having their face and feet trimmed, and will be trimmed weekly thereafter.
Training:
We have children in our family and friends who regularly visit, and therefore all puppies are taught early on that jumping on and nipping at people is unacceptable behavior.
At birth we begin neuro stimulation which increases brain activity and is proven to create the building blocks of smarter and more confident pups.
By 4 weeks old we begin playing Puppy games during feeding time which teaches pups self control, patience, observance, and respect for human boundaries.
They are taught to respect boundaries early on by not "Rushing" anyone who opens a door to let them in or out, or go in puppy pen and clean up poop.
Whining and unnecessary barking (telling humans what to do) is nipped in the bud quickly.
During hot/cold months puppies spend a lot of time indoors and are given a boundary to respect. (usually a throw rug or dog bed) Puppies learn very quickly not to cross that boundary.
Sometimes at 7/8 weeks of age we lay the foundation for crate training by penning them all up together for their protection at night. We crate three puppies per large crate overnight. This allows them to feel comfortable with litter mates at their side and soon learn that crates are not a punishment but a haven. Sometimes it is just too hot for this and skip it!
If (rarely) there are any pups remaining with me past 8 weeks old, we begin to crate them individually and work on leash – price goes up NOT DOWN, for this training…something to think about.
Puppy Packet (What pup comes with):
State taxes are included in price
AKC/UKC Documentation – (UKC documentation for certain litters) All of our puppies are sold with "limited registration" unless otherwise stated. (If you need definition of "limited registration" please scroll to bottom of this page.)
Included AKC Fees with the purchase of your puppy (at full price) is the cost of registration to AKC, this is the breeders responsibility to mail to AKC or UKC. You will choose your puppies name, yet all our puppies will carry the prefix of "Springer Clans"…. after which will be added your chosen name.
Included Micro-chipping with the purchase of your puppy (at full price) is the complete micro-chipping of your puppy and fee's associated with the registering of the chip with AKC Reunite.
Copies of any AKC/OFA certificates or evaluations of Sire & Dam
Copies of any and all testing performed on parents and results
2 Year Health Guarantee
Lifetime Genetic Disease Guarantee For Tests Parents Cleared
Vet Exam and Clean Bill of Health
All Health records including 2 sets of shots and 2 worming's
Photos of the Sire & Dam along with ancestors as far back as we have available.
Piddle Pad
Chew Toy & Raw Hide
A quart size bagged sample of what they are currently eating, Kirkland Puppy Food from Costco
A small amount of Diatomaceous Earth and instructions
A blanket with the scent of Mom and siblings to assist with re-homing transition anxiety issues
A doll with the scent of my family to assist with anxiety
All our contact information so that you are able to have any questions or concerns addressed.
We choose to have a limited amount of litters each year, sometimes the litters fall in the first or second half of any given year, all Future Planned Litters will be posted on that page. At times we do have rescue Poodles available and some have had "Unexpected" litters. We do not include these as part of our Breeding Program, yet will include these and any dogs that are born to our family in our Warranty Program and will be raised in the exact same fashion as our very own dogs.
SCSPoodles offers Shipping/Delivery options:
To view these options along with much more information, please click on the link below which will take you to another page on our website:
SCSPoodles will only sell to those that we deem to be responsible owners who will make a life-long commitment to love and cherish their Standard Poodle. We rarely will sell to breeders but it is not out of the question. If you wish to begin a working relationship with SCSP, contact us and let us know your plans.
Thank you for visiting our website, we look forward to hearing from you very soon…
The Springer Clan
Limited Registration

: This means that the dog is registered as a pure bred dog, but no litters produced by that dog are eligible for registration. The only way to remove limited status is by asking the original breeder of the dog to remove "limited registration" status. For more information about limited registration please visit

http://www.akc.org/reg/limitedreg.com

NuVet Plus Supplements – CLICK HERE TO ORDER nuvet.com/76982