Grooming Your Poodle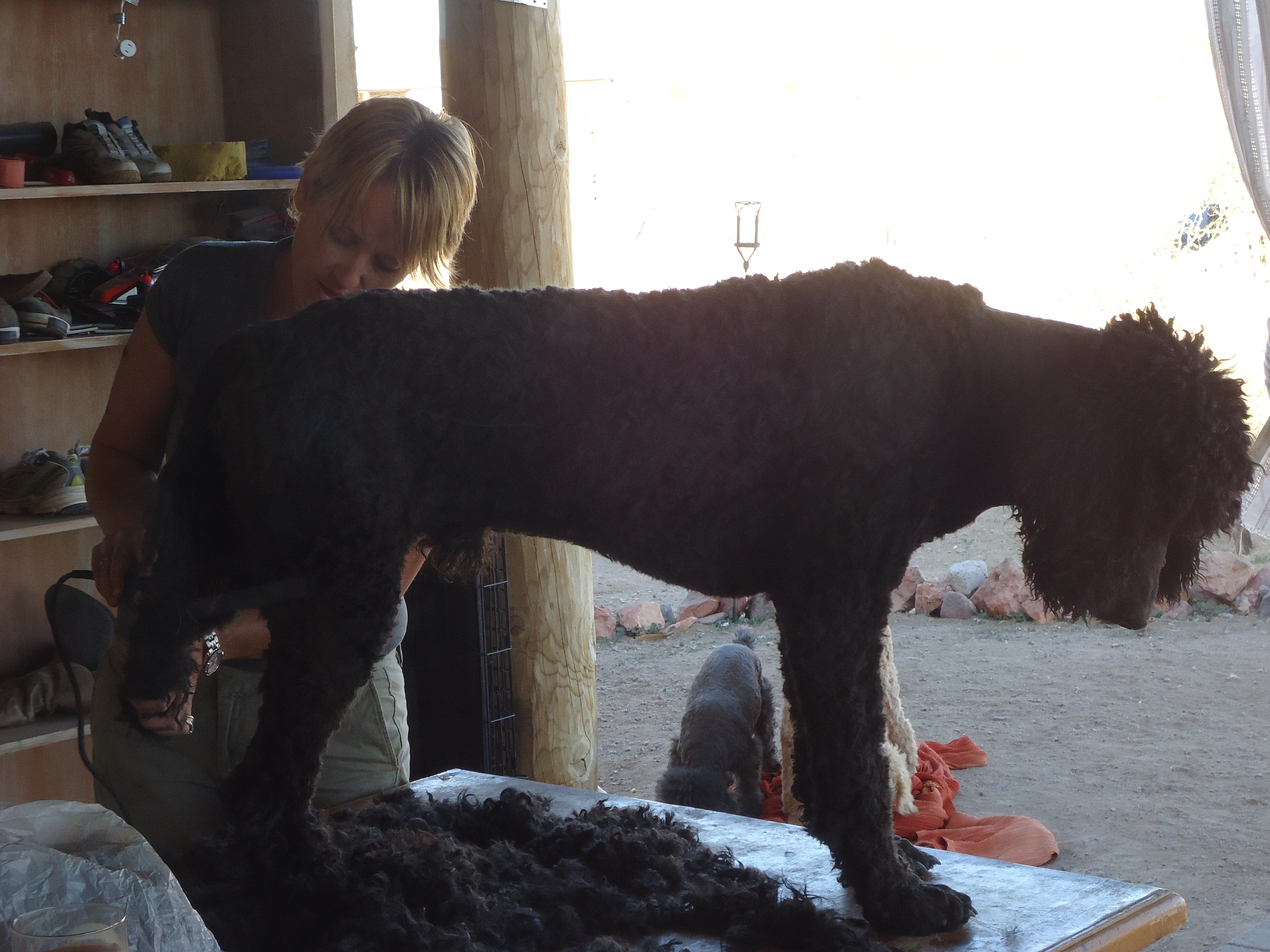 This is the first video I made a few years back on basic grooming. I groom the fastest, simplest way that works for ME. As with most things in this world, everyone has an opinion and sometimes it does not agree with MY way. That's ok, you do what works for you. Take a look at my video and then you be the judge… please leave a comment and let me know what your thoughts are. Then I can put together another video that captures what it is lacking. Thanks for watching.
Here is a photo of the bare basics that you will need for grooming your Standard Poodle.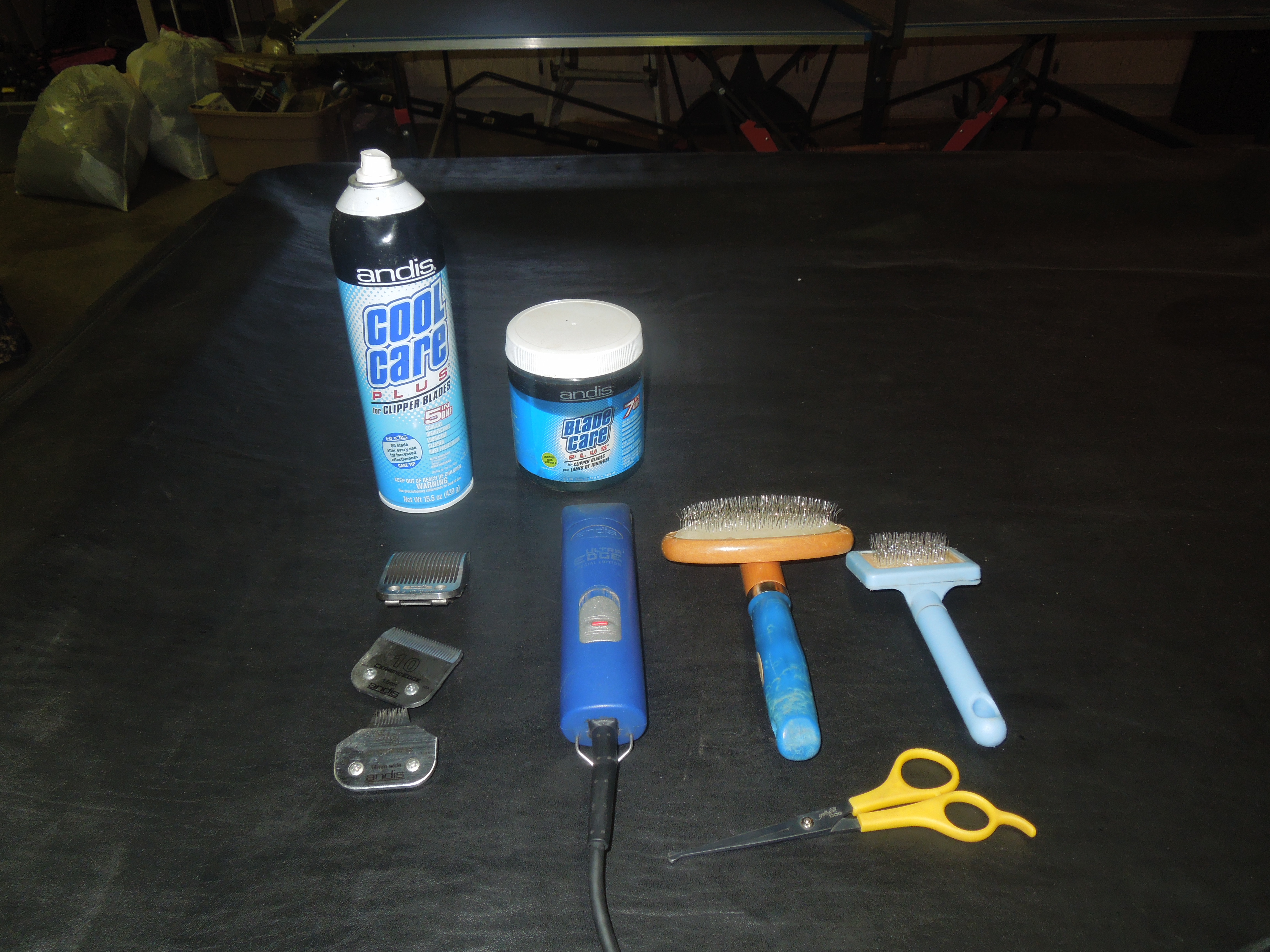 Andis Cool Care – Used to spray down the blade that you are using so that is remains cool to the touch. – Amazon $7.00
Andis Blade Care – Used to clean your blade before you store it away. – Amazon $10.00
Andis Ultra Edge 2 Speed Clipper – This can not be skimped on! This clipper will last you for years for clipping 1 or 2 dogs. – Amazon $140.00 (or look for a used one on eBay)
Andis Toe Blade – If you are nervous to clip between the toes…use this blade, it does wonders. – Amazon -$26.00
Andis #10 Blade – This blade you will use on your dogs muzzle, neck, tail, rear, and all 4 feet. – Amazon – $19.00
Andis 3/4″ Blade – This is the longest blade that Andis manufactures. It will be used for your dogs entire body if you desire an easy sport-cut. Amazon – $30.00
Large Slicker Brush – This is the brush you will use while blow drying your dog, and also for regular brushing. – Amazon, Petsmart, or Wal-Mart – Under $10.00
Small Slicker Brush – This brush you can use for hard to reach places (back of the legs, near eyes, ears, tail) – Amazon, Petsmart, or Wal-Mart – Under $10.00
Small Scissors – Use these to shape crown (Top Knot), tail, and around legs if your picky like me. – Amazon, Petsmart, or Wal-Mart – Under $10.00
Simple Blow Dryer – I use my personal blow dryer because the one I purchased for the dogs died.
Grooming Table – Anything can be your grooming table including the ground. I purchased a fancy swivel, hydraulic table and now recommend 4 leg grooming tables considering the wobbly nature of some out there. Save this purchase for later after you have saved $100.00 in grooming costs.
Grooming your Standard Poodle can be very challenging when you first start out. You must accept that your dog will not look perfect at all times, and you will tragically butcher your dog at least once. Its OK you just start over next time! Move on. Grooming will strengthen the bond you have with your dog, and also teach them that when you want them to stand still for a few hours …. you expect just that! You establish your Alpha status. You will also bond with your dog because it requires trust and respect for your dog to cooperate and let you put them in …. well…. challenging positions while you clip them.
Above all else…. enjoy and don't take yourself too seriously. Have fun, look up new cuts and experiment.
If you need any tips or have any suggestions, please feel free to comment on my YouTube videos or email me. I love to hear from you all! And please send me some photos of your successes and of course your failures… they are the best!
Have Fun!!