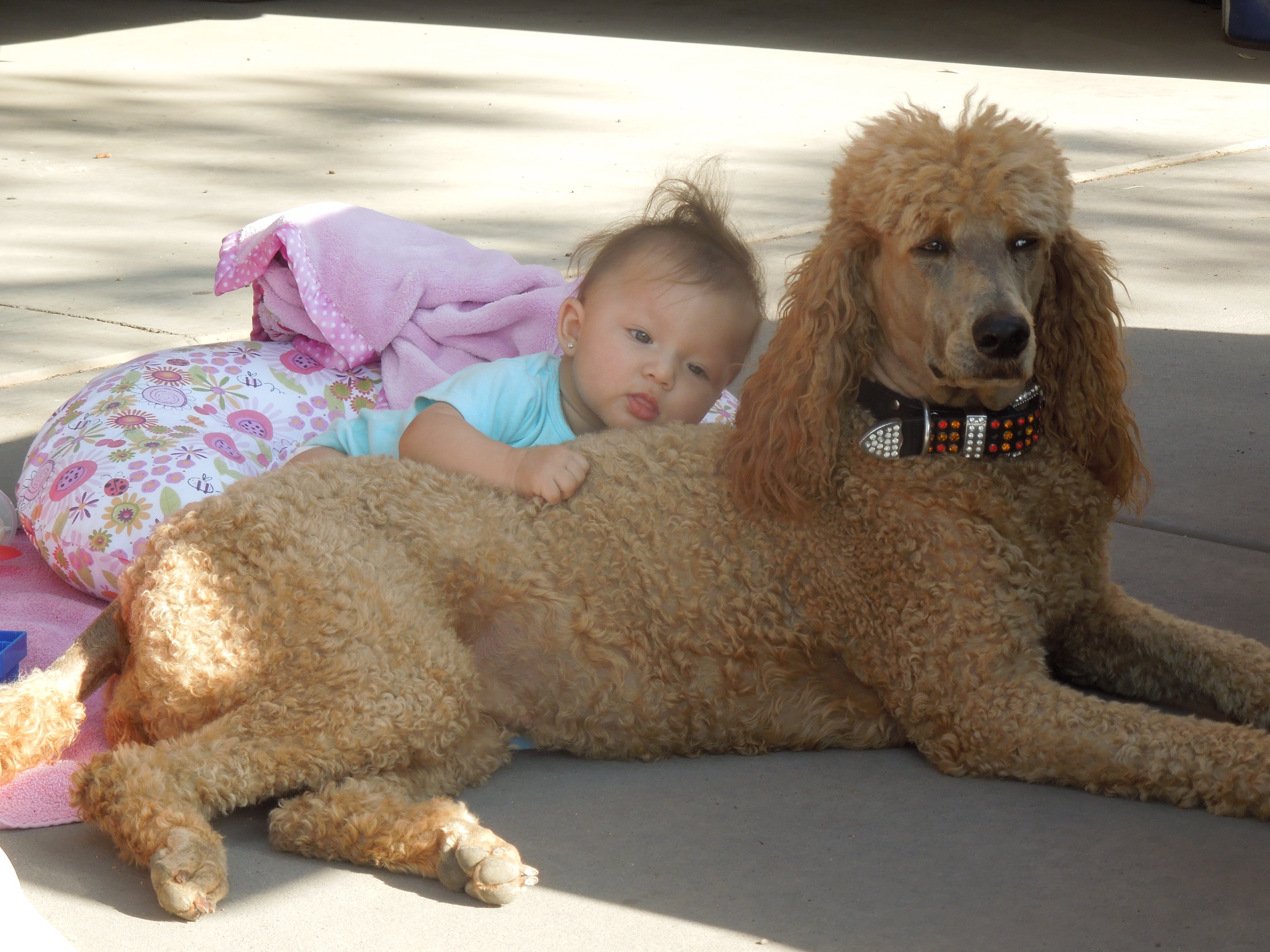 My "Penny" and her little friend Kourtney, AKA – Turtle
Hello, and thank you for visiting Springer Clans Standard Poodle website!
I endorse Bar S Animal Clinic as the Vet that will care for all your animals needs! I use this Clinic for just about everything I have done since I moved to Arizona, and have never been disappointed. The link below will take you to their website.
http://www.google.com/url?sa=t&rct=j&q=&esrc=s&frm=1&source=web&cd=1&cad=rja&ved=0CCkQFjAA&url=http%3A%2F%2Fwww.barsanimalclinic.com%2F&ei=fWFUUs69NIjTigL3xYDICg&usg=AFQjCNFXvFMiov9wGF9kGFhFHfcXi1yz-Q
EMERGENCY CARE FOR WHEN A DOG LICKS, BITES, OR MOUTHS A POISONOUS TOAD!!! READ THIS AND REMEMBER IT!!! http://thepointyearedbeast.blogspot.com/2012/05/what-to-do-when-your-dog-bites-frog-or.html
2013.12.21 – I love this link to AKC Newsletter – It has some myth busters that might surprise you! http://contentz.mkt2242.com/mson/2013/12/21/o92uxgwVNdob/index.html
2014.3.21 – Fantastic direct suggestions that you can use immediately when training your dog. – http://www.woofipedia.com/articles/training-tips-from-the-top
We have added this page, which leads to other helpful pages, because many of you have inquired about issues that are of concern, such as:
Training Tips
Diet
List of needed items for a new puppy
Health Concerns
Grooming Supplies and Grooming Tips
If you move your mouse and hold it over the tab "Helpful Information", several other tabs will pop up, then just click of the tab that interests you.
Managing Parasites in dogs – http://www.revivalanimal.com/pet-health/managing-parasites-in-dogs-1/learning-center – Great Link
We hope that we have helped you out in some small way with our suggestions and information. We ask you to keep in mind that the ideas, videos, and thoughts that we post on our website are simply things that work for us. We groom, train, care, and feed our dogs to fit our needs. Many Poodle owners and professionals may do things differently, and that is great if it works for them. Nothing that is on our website is "Law", they are simply suggestions that we think have been successful for our family and our dogs.
Please feel free to leave a comment on this website, on our YouTube Account (Springer Clan Standard Poodles / LeeAnna Springer), or on our Face Book Page (LeeAnna Springer / Springer Clan Standard Poodles).
Thank you again for visiting us, and we hope to meet you very soon!
The Springer Clan – LeeAnna Springer