Springer Clan Standard Poodles
Surprise, AZ
Available Pups/Current Litter
Last Updated 4.18.2018
Standard Poodles are naturally smart, as you well know, however Springer Clan Standard Poodles are raised using the Puppy Culture protocol. This has allowed us to focus on raising confident puppies who excel as Service Dogs (in all the facets of that work) as well as family dogs that are exceptionally easy to train because they LOVE to learn! Puppy Culture protocol focuses on creating a Puppy that has an intense desire to learn from and please their human companions.
When I have pups under 12 weeks old I do not allow ANYONE who is not on Deposit List on my property…..PLEASE NOTE I WILL NOT MAKE ANY EXCEPTIONS (Please don't make it harder on me and yourself….don't ask)!!!
Normally I have an open door policy, however, after certain past events AND the the fact that since the Summer of 2015 a warning of major Parvo outbreaks in the valley – 12 a day at some vets – my doors are going to be closed to anyone NOT on a list with deposits for the litters below. Even if you are on a list, the visits will be open ONLY at the 4 or 5 week mark (My decision) for choosing your pups with intense germ protocol. This is only because I want to limit ALL interaction with my/your new family members to what is absolutely necessary. My job is not only to produce the most healthy pups for you, but also to keep them safe and healthy until they go home with you. Therefore, I will not allow any unnecessary visits just for fun to my home, Puppy shoppers are not permitted on my property, NO dogs (no exceptions) other than my dogs will be permitted on my property. Kylee, my daughter, the Groomer, will have strict protocol for her Grooming Trailer and her clothing. Please understand this is for no other reason except for the protection of the puppies and of course my reputation as a responsible breeder and guardian of the Standard Poodle breed. IF you have further questions, please contact me via my e-mail – springerclan@hotmail.com
Standard Poodle Service Dog Standard Poodle Pup Standard Poodle Breeder
______________________________________________________
LOOKING FOR A PUP….SCROLL DOWN or GET A DEPOSIT ON A FUTURE PLANNED LITTER
Take a look at our Future Planned Litters AND Rescue and Poodles in need page….just in case.
Puppy Packet Includes $2000.00 – $2200.00:
A pure bred Standard Poodle Puppy of choice
State Taxes included in prices.
AKC/UKC Documentation – (UKC documentation for certain litters) All of our puppies are sold with "limited registration" unless otherwise stated. (If you need definition of "limited registration" please scroll to bottom of this page.)
Included AKC Fees with the purchase of your puppy (at full price) is the cost of registration to AKC, this is the breeders responsibility to mail to AKC or UKC. You will choose your puppies name, yet all our puppies will carry the prefix of "Springer Clans"…. after which will be added your chosen name.
Included Micro-chipping with the purchase of your puppy (at full price) is the complete micro-chipping of your puppy and fee's associated with the registering of the chip with AKC Reunite.
ONE FREE GROOMING MUST be used 4 weeks after go home date using Kylee Springer's Mobile Dog Grooming – 760.666.0811
Copies of any AKC/OFA certificates of Sire & Dam
2 Year Health Guarantee
Lifetime Genetic Disease Guarantee For Tests Parents Tested For
All Health records including 2 sets of shots and worming's
Photos of the Sire & Dam along with ancestors as far back as we have available.
Piddle Pad – For the drive home in case of accidents or car sickness
Chew Toy & Raw Hide
A quart size bagged sample of what they are currently eating, Kirkland Puppy Food from Costco
A 3 day supply of Nuvet Supplement (which they have been on since eating solids)
A small amount of Diatomaceous Earth and instructions
A blanket with the scent of Mom and siblings to assist with re-homing transition anxiety issues
A doll with the scent of my family to assist with anxiety
All our contact information so that you are able to have any questions or concerns addressed.
A lifetime of support and friendship with SCSP Family and extended Family
Invitation to ANNUAL POODLE PALOOZA party for any of my SCSP Families
Private group on Facebook for my families ONLY to share, brag, discuss challenges. (Please request to join Share with Springer Clan Standard Poodles)
Want to see the families of the last litter, go to Gallery of Past Litters page, I have years and years of pictures to browse through!
I prefer to post clearly the price of my pups and all that is included when you take home a SCSP pup. After all, price, along with many other things, is a realistic factor when settling on a breeder.
For my high quality pups, the prices are the following:
I have 1 set price for Males of any color ($2000.00) and Females of any color ($2200.00) No breeding rights aka "Limited Registration"
I do not give discounts for Service Prospects, as these will be given preferential treatment and I will personally assist in the picking. Thus they will be the best of the litter and logically the best are not discounted.
NOTE: Any pups that remain after the 8 week pick up date that are AVAILABLE will begin my Foundation Puppy Training program and thus the price WILL GO UP not DOWN. Some people think that the older the puppy is that the price should be lowered. I DON'T DO THAT. I put work into each pup and therefore you get a better, more trained puppy. Price goes up by the week, then month, and so on, based on the work and medical that has been put into the puppy. Please don't expect a "On Sale" puppy when contacting me for an older pup or a smaller pup. It does not work that way with Springer Clan Standard Poodles. I am NEVER desperate to "get rid" of any of my beasties.
_________________________________________________
PUPPIES ARE HERE!
2018.4.14 Sasha/Buck "Super Secret" Litter – ALL PUPS HAVE HOMES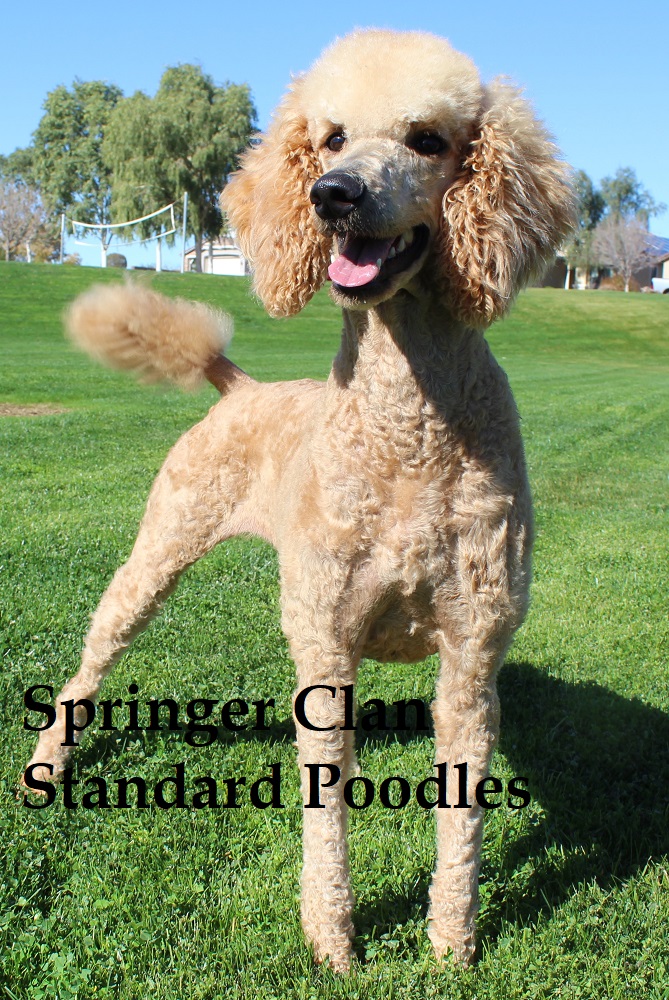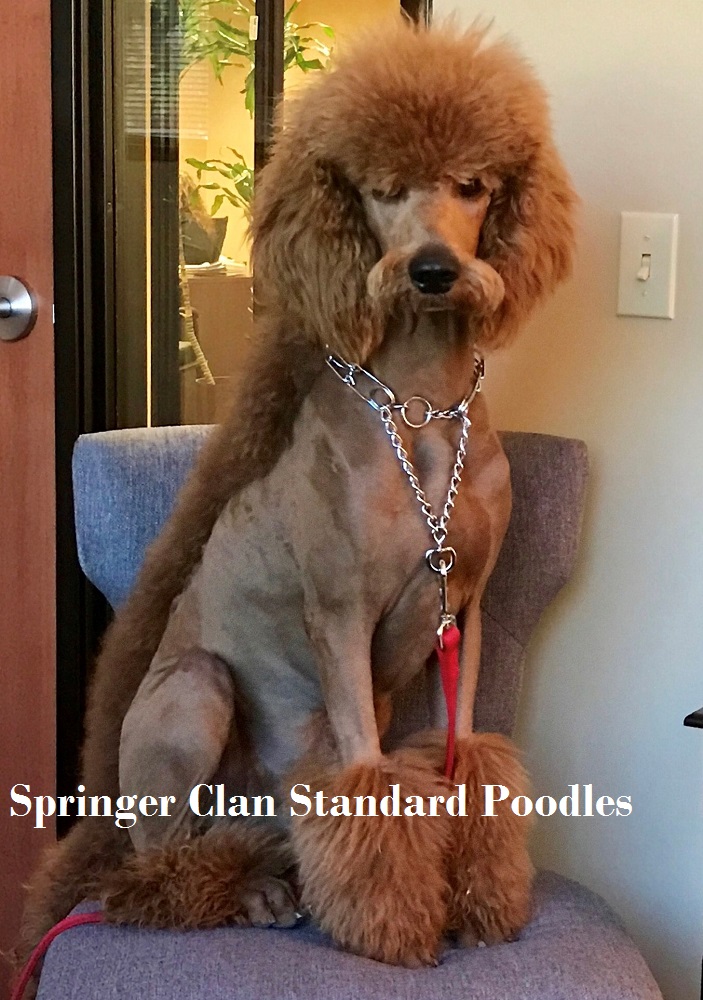 IMPORTANT DATES –
Puppy Pick Day – May 26th – Email will be sent 1 week prior with loads of information
Puppy Go Home Day – June 8th – Email will be sent 1 week prior
Foundation Puppy Go Home Day – July 7th – Email will be sent 1 week prior
1st Pick – SCSP for Breeding Program – FEMAL
2nd Pick – Sarah Ellis – FEMALE
3rd Pick – M. Guzman – MALE
4th Pick – Joan Petersen – MALE
5th Pick – Stephanie Wright – FEMALE
6the Pick – Ka Graves – FEMALE
Condor – Purple Collar Female
Sweet and calm thus far. Could literally change over night.
__________________________
Deirdre – Yellow Collar Female
Heads up and looking around…or hearing around. She is an active one.
____________________________
Nancy Drew – Pink Collar Female
This girl is a big girl, a nice red, and easy going.
____________________________
Nikita – Orange Collar Female
The Itty Bitty of the litter. One tough cookie this girl is.
____________________________
James Bond – Blue Collar Male
This boy is the biggest in the litter. He will be a gorgeous Apricot, more golden and blond…he is a beauty.
____________________________
Jason Bourne – Green Collar Male
He is the darkest in the litter, will end up a lighter red with great blond highlights. Handsome and easy going.
2018.3.21 Ruby & Buck "Precious Stones" Litter – ALL PUPS HAVE HOMES
1st Pick – Breeders Choice – Female
2nd Pick – Amanda Faigin – Phoenix, AZ – (Marz) Red Male – FOUNDATION TRAINING – DEPOSIT HELD
3rd Pick – Traci Nemeth -Green Valley, AZ – (Kallianthi) Red Female – FOUNDATION TRAINING – DEPOSIT HELD
4th Pick – Nancy Ochs – Tucson, AZ – Red Male – DEPOSIT HELD
5th Pick – Lauraence Legouge – Tucson, AZ – (Tavio) Red Male – DEPOSIT HELD
6th Pick – Candace Odell-Wood – Lubbock, TX – Red Female – DEPOSIT HELD
7th Pick – Stephanie Fairbrother – Yuma, AZ – Red Female – DEPOSIT HELD
8th Pick – Anne Firth – Peoria, AZ – Red Female – DEPOSIT HELD
IMPORTANT DATES:
May 2nd – Pups turn 6 weeks old and receive first shot – Parvo Only
May 5th – Pups will be 6 weeks old, have had first shot, and will be ready to meet families for Puppy Pick Day.
May 16th – Pups turn 8 weeks old and receive second shots – 5 in 1 (FOUNDATION TRAINING BEGINS)
May 19th – Pups GO HOME – Email to be sent with all that information
June 13th – Foundation Trained Pups Go Home
HOMED Amethyst (AKA "Pebble") – Red Female – Purple Collar
Week 4 – Groomed well, vocal, but a problem solver.
__________________________________
HOMED Topaz – Red Female – Lt Pink Collar
Week 4 – Topaz is very lay back, not demanding at all. Would barely open her mouth to take food from me, just a gentle little Princess.
__________________________________
HOMED Peridot – Red Female – Lt Green Collar
Week 4 – Groomed well, and came to eat her meals, learned quickly that people bring good things.
__________________________________
HOMED Amber – Red Female – Yellow Collar
Week 4 – This little girl likes to be heard. She WILL be heard!
__________________________________
HOMED Opal – Red Female – Lt Blue Collar
Week 4 – Sweet girl, seems outgoing thus far, and LOVES her new food!
__________________________________
HOMED Emerald – Red Male – Green Collar
Week 4 – This boy has some grit. He is outgoing and ready for it all.
___________________________________
HOMED Sapphire – Red Male – Blue Collar
Week 4 – This boy is a little more lay back, missed dinner because he just didn't want to come out of his spot. I don't cater to any of the pups, they need to overcome their own mental and physical obstacles to grow.
___________________________________
HOMED Jasper – Red Male – Red Collar
Week 4 – Jasper is Mr. Outgoing, loves his new food, and comes to me quickly.
________________________________________________
________ADDITIONAL PUPPY PACKAGES________
9.12.2017 – Additional 4 Week Foundation Puppy Training – $900.00 (I will not accept more than 4 pups per litter (3 Pups if multiple litters) for this training)
For some potty training, crate and boundary training seems a bit overwhelming. This can be due to a busy schedule, the lack of knowhow, or simply just being a huge task that takes a few weeks at the minimum. It can deprive you of sleep and much more. The crying at night, howling, the constant accidents and laundry at times seems ridiculous. Well I have devised a program that might assist you with this.
The program is basic really. From the 8 week go home date, pup will remain with me but be brought into my home (instead of my puppy area outside) and put into a playpen where I will potty train your pup for you. At night your pup will sleep in a crate or in the play pen….silently and happily. Your pup will be fed as one of my own, treated as one of my own, and trained as one of my own. At the end of the 4 weeks your pup should be trained to the best of THEIR ability in the following:
Potty Trained – This DOES NOT mean you can give free run of house, it means pup will NOT pee in crate or play pen with out giving you warning as to what they need.

Know name (Hopefully LOL)

All pups are asked to STAND on the grooming table daily for brushing (Grooming Training)

Come on command (Probably NOT 100% of the time)

Potty in same area every-time and on command

Stay content through the night till about 5-6am

Stay content in a playpen (no crying, whining, pooping, or climbing on) during the day

Will Kennel or Crate on command (Mostly)

No biting

No Jumping

No chewing on your clothes or shoes

Introduce to leash, will walk with you happily and not drag behind

May possibly – Sit on command…..

May possibly – sit and wait to enter any door until given an OK to enter

1 final grooming at 12 weeks old new families get to choose what coat style

2 additional sets of shots (1 at 10 weeks, and 1 at 12 weeks)

1 Additional worming (10 weeks old)
If you are interested in this additional training please let me know ASAP as spots are limited per litter and not offered on all litters due to scheduling.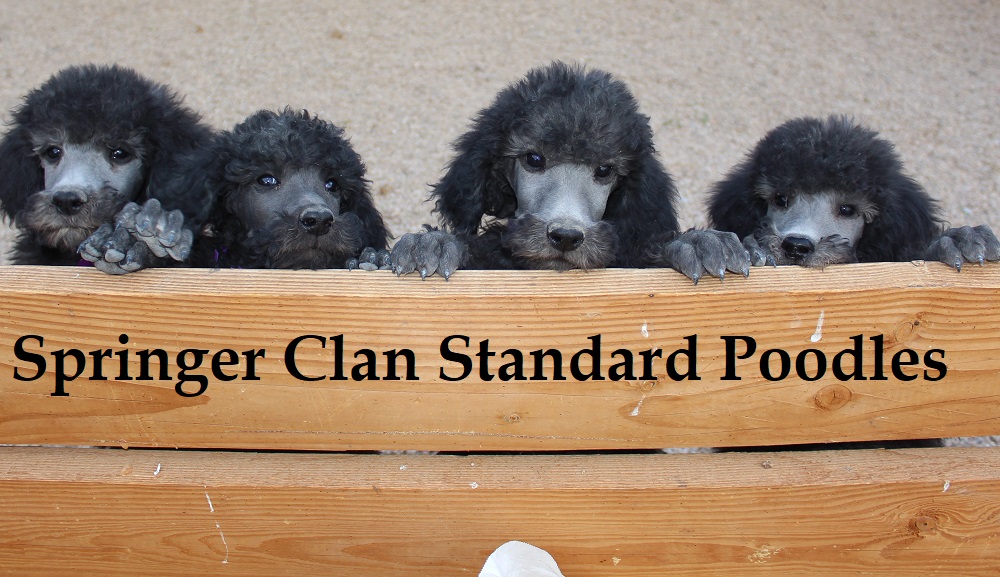 ___________________________________________________
Home Ready Puppy Package – $400.00 (2 day notice required)
Don't know what to purchase for your new puppy? Frustrated with dimensions and making sure you got everything you need to make you new puppy safe and comfortable? I have put together a list of everything you need to take your puppy home and be ready for anything. Let me do the driving and work for you, take home my Home Ready Puppy Package which includes:
Wire Crate (42″ x 28″ x 30″ for full size Poodle) with a "Grow with me" divider
Washable Crate Mat
Black Crate cover
Play pen (24″ in height) – to use for boundary and potty training
Puppy collar 8″ to 12″ (Red, Black, Pink)
Puppy leash 6′ (Red, Black, Pink)
2 – 1 quart size stainless steal bowls with a non-skid rubber base
Undercoat Brush
Slicker Brush

1 – 20lb bag of Kirkland Puppy Food
If I do not have the puppy for you I will assist you in finding the perfect Standard Poodle from a select group of breeders that hold to the same ethical breeding as I do.