Springer Clan Standard Poodles
Surprise, AZ
Available Pups/Current Litter
Last Updated 3.18.2019
IF you are searching for a quality Standard Poodle and wish to get a Springer Clan Standard Poodle or Springer Clan Service Poodle you MUST get on a Future Planned Litter list with DEPOSIT. I will not hold any pick spot without deposit unless specifically stated due to the high demand for our quality Poodles.
IF you are searching for that perfect "rescue", trained, well mannered, pure bred and so on……..PLEASE DO NOT EMAIL ME about it. I used to keep a list but the list has gotten too big and too tedious. LOOK and KEEP LOOKING on my "Poodles In Need" page and email me regarding an actual dog on the list. IF there are no poodles posted I DON'T HAVE A RESCUE IN NEED! I work diligently to keep my site up to date on almost a DAILY basis, so if they are not posted there is not one available. AGAIN, I have stopped keeping a list because I just can't keep up with the "RESCUE" demand.
I am a quality, reputable breeder 1st and foremost and therefore I have PUPPIES, well bred and perfectly raised PUPPIES for sale. I don't retire any of my breeding dogs to new families, my breeding dogs are ALL in there forever homes for their entire lives and retire with their own family.
Thank you for visiting our site and have a fantastic day.
Standard Poodle Service Dog Standard Poodle Pup Standard Poodle Breeder
When I have pups under 12 weeks old I do not allow ANYONE who is not on Deposit List on my property…..I WILL NOT MAKE ANY EXCEPTIONS (Please don't make it harder on me and yourself….don't ask)!!! Even when on deposit list "visits" are not common, until pups are 6 weeks of age.
For Deposit List procedure please refer to "FUTURE PLANNED LITTERS" page.
For information on additional puppy packages and puppy training offered by SCSP please refer to "Available Puppy/Liter Info" page.
______________________________________________________
2.27.2019 Barbie & Vader "Barbie" Litter – Barbie has 11 pups (5 Female & 6 Male) 4 Available below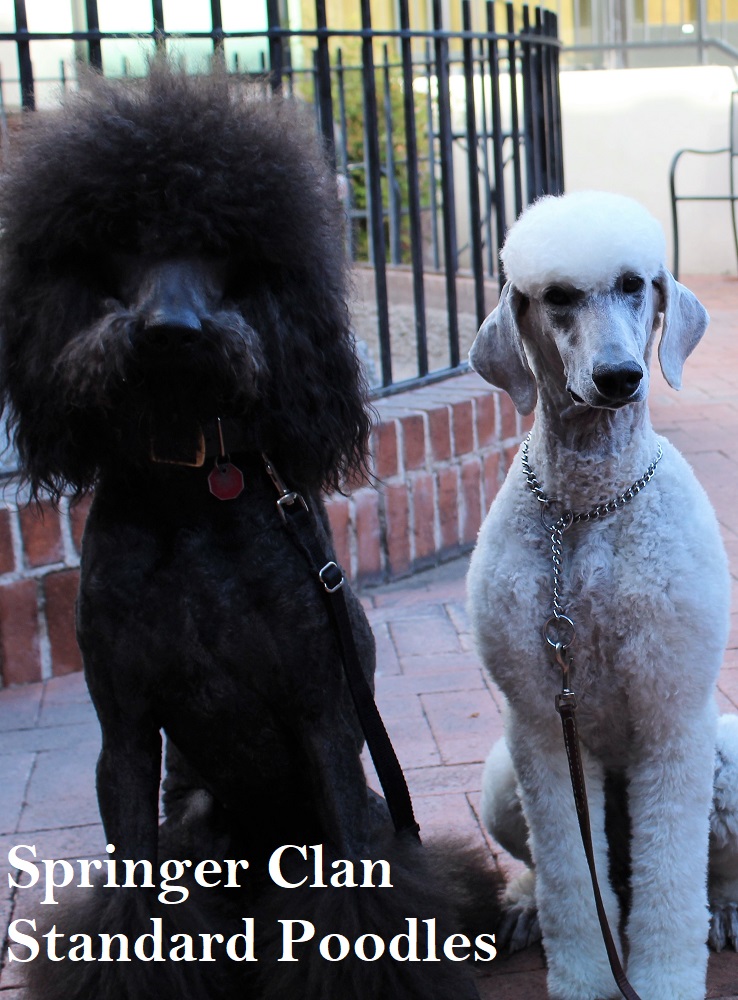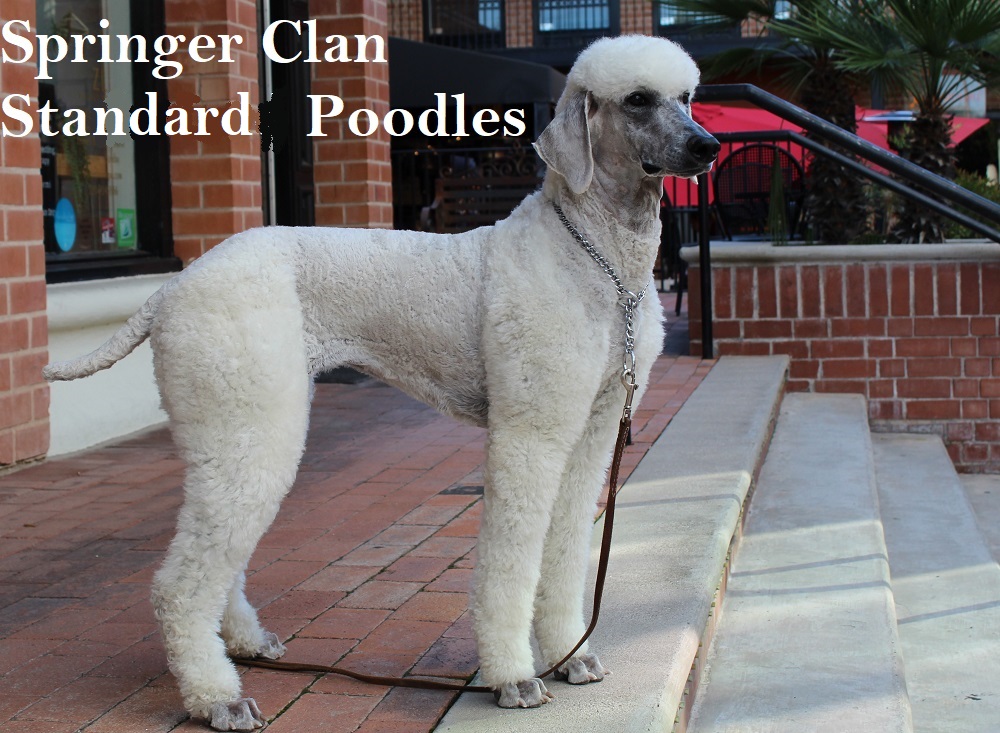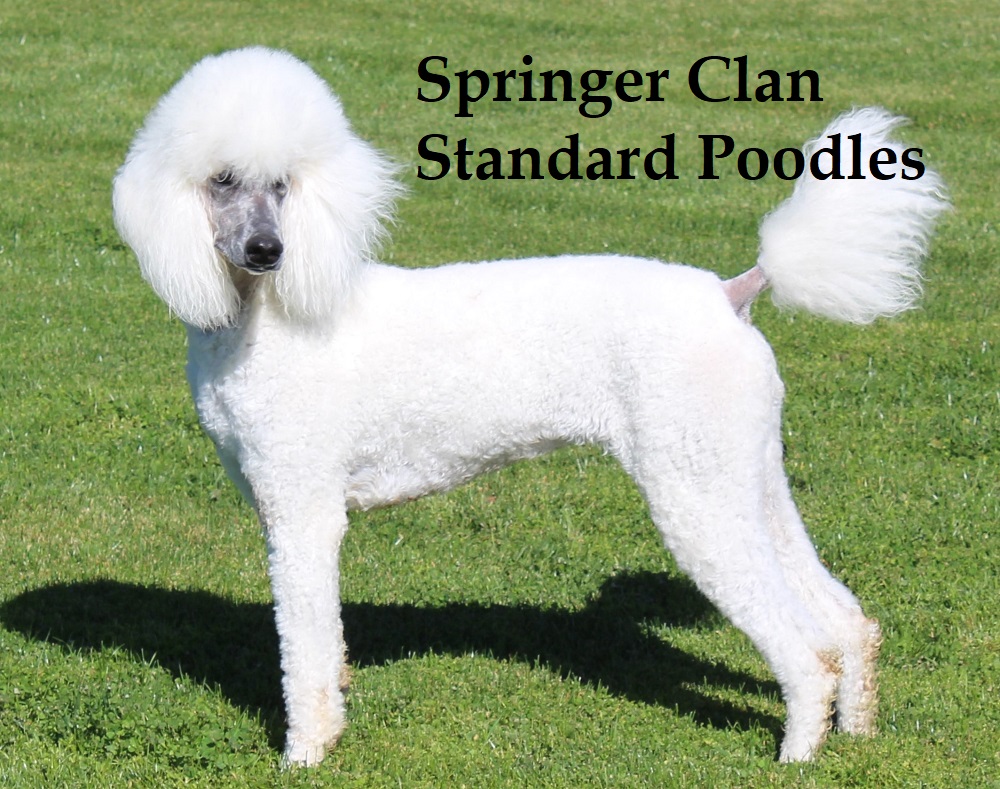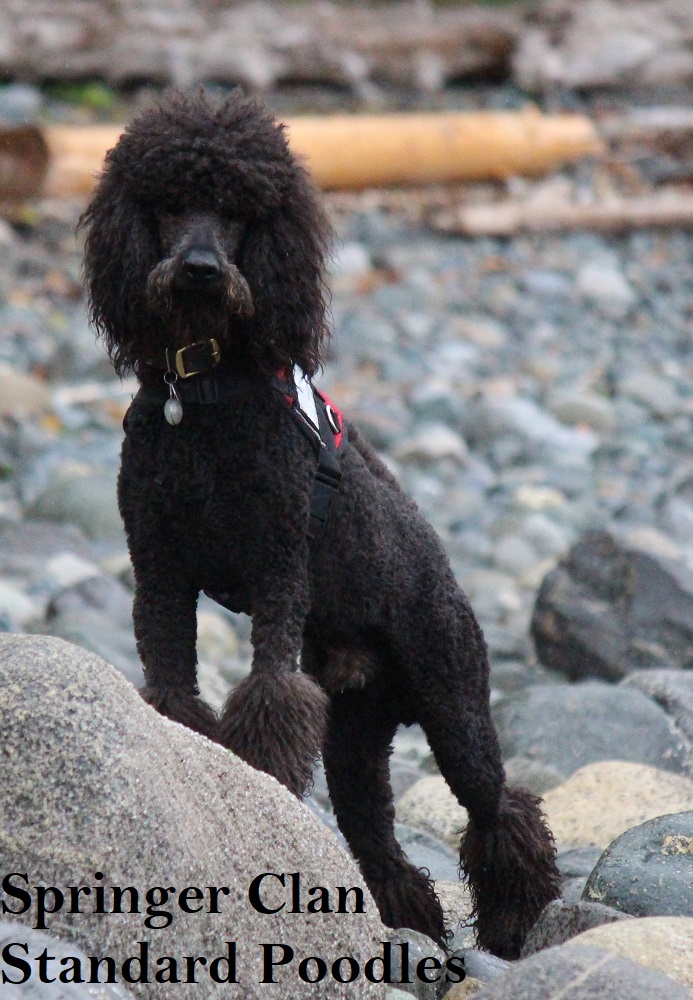 We are naming this litter after "Barbie" Character Friends and Family. This litter consists of Whites and Blues. We have been waiting YEARS for this pairing and are really excited to see what colors they have and also the amazing temperament these two will give to their offspring. If you are looking for a flashy, loyal, yet fun loving dog for either a pet, service, and possibly show, this is the litter you will want to be a part of. Barbie gave us 1 White female, 3 White Males, 4 Blue Females, and 3 Blue Males.
IMPORTANT DATES:
Puppy Pick Day For All Deposit Holders – Saturday beginning a 9am on Saturday April 20, 2019 – Email will be sent 1 week prior with schedule and Germ protocol
Puppy Go Home Day – Saturday 10am on May 4, 2019 – Email will be sent 1 week prior with more information
1st Pick – BREEDERS CHOICE – Sherri Escalona – White Male FOSTER
2nd Pick – Richard & Rochelle Pressel – Henderson, NV – White Male – DEPOSIT HELD
3rd Pick – Linda Gibbins – Scottsdale, AZ – White Male – DEPOSIT HELD (2 Week F/T)
4th Pick – Linda Gibbins – Scottsdale, AZ – White Female– DEPOSIT HELD
5th Pick – John Conway – Phoenix, AZ – Male (Blue) Preference Service Dog Possibility – DEPOSIT HELD
6th Pick – Michelle Spano – Phoenix, AZ – Blue/Silver Female – DEPOSIT HELD
7th Pick –Haley McLaughlin – Sedona, AZ – Blue Male For Service – DEPOSIT HELD ( 2 Week F/T)
8th Pick – Alan Rizzone – Flagstaff, AZ – Blue Male – PENDING DEPOSIT (4 wk F/T)
9th Pick – Blue Female Deposit Available
10th Pick – Blue Female Deposit Available
11th Pick – Blue Female Deposit Available
HOMED – KEN – Blue Collar White Male
HOMED – TODD – Lt Blue Collar White Male
HOMED – CLAUDE – Green Collar White Male
MAX – Lt Green Collar Blue Male
GEORGE – Orange Collar Blue Male
KEVIN – Yellow Collar Blue Male
HOMED – SKIPPER – Pink Collar White Female
KELLY – Lt Pink Collar Blue Female
KRISTINE – Purple Collar Blue Female
LILLIAN – Red Collar Blue Female
MIDGE – Tan Collar Blue Female
If I do not have the puppy for you I will assist you in finding the perfect Standard Poodle from a select group of breeders that hold to the same ethical breeding as I do.