Your Puppy's Needs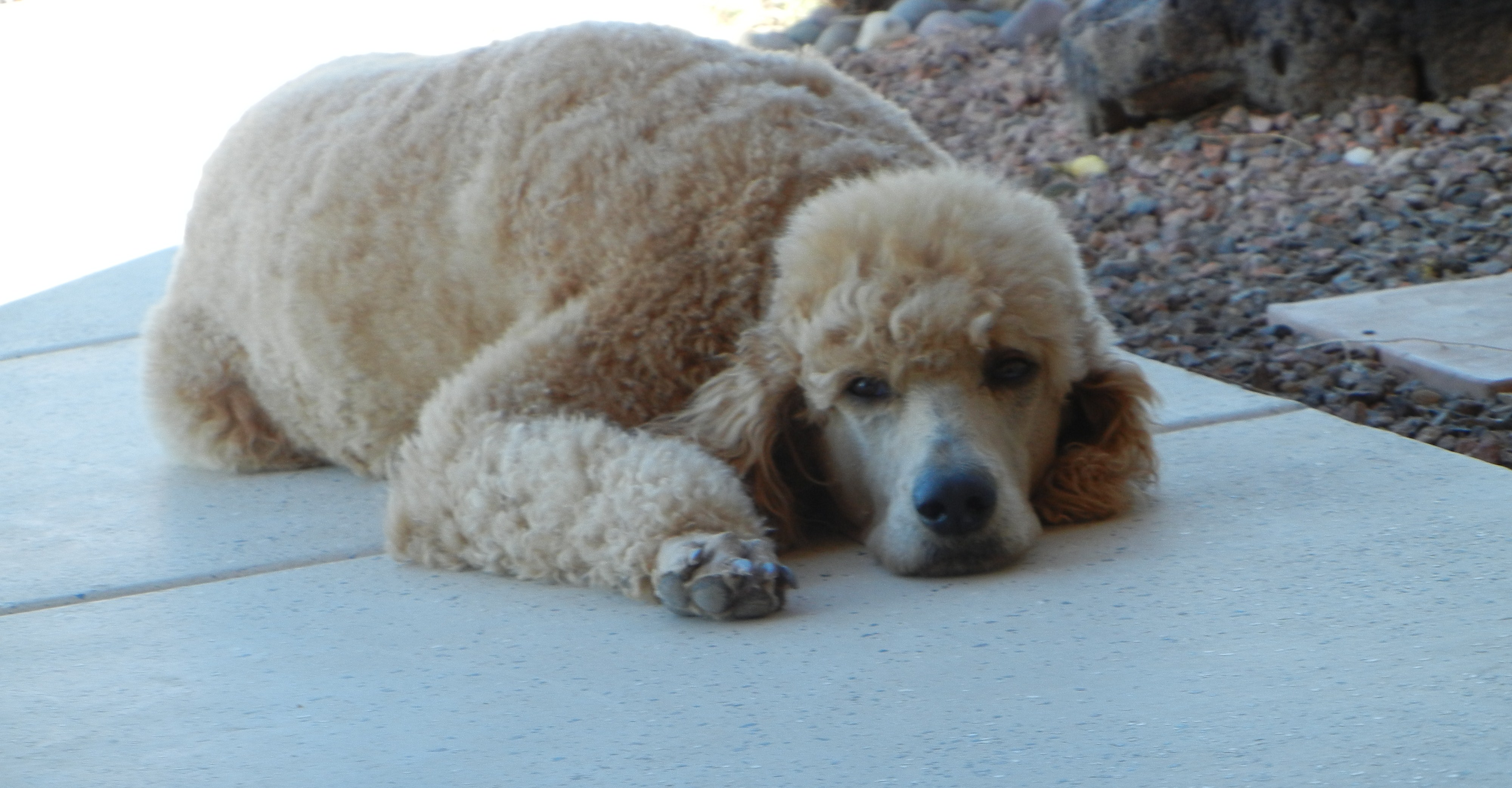 So you are getting a puppy! How exciting! How scary! Yes it can be such a wonderful time in your life and also an intimidating task all wrapped up in a cute little ball of curly hair and hugs and kisses. So what will you need? Here is a short list of the basics.
You will want to purchase a crate if you plan to crate train your puppy. I have listed many links with wonderful suggestions on how to choose the right style and size for your dog. The information is below under "Crate Training / Crate Type". You may want to wait on a fancy bed for the crate and just use a towel, as your new pup may have accidents, I use a comfy towel for a while and graduate to a nice bed later.
You will need to decide on a brand of food to feed your puppy. I have some suggestions on that as well, just below this list of puppy needs under the title "Puppy Food". Once you decide you will need to purchase a bag before puppy comes home. I also include a small zip lock bag of the brand I feed my puppies in your puppy gift bag.
You need a food dish and a water dish so that your pup always knows where he/she will be eating and out of which dishes.
If you are bringing home an 8 week old pup, I would say a collar and leash are not vital. But many like to purchase these items anyway since they are out and about at a pet store. It is completely up to you.
Toys – It is important for pups to have an outlet for that never ending supply of energy, and toys do the trick. Any toy that squeaks or that can be chewed on does the job. Pups that come from my home will always LOVE a ball and usually I include one in your puppy gift bag.
Chew Toys – Raw hide free chew toys are also a wonderful way for a puppy (and a dog) to stay focused on something other than getting into trouble. I often purchase pork twists (rawhide free) for my pups and dogs and they just love them. At times I also include one in your puppy gift bag.
For the ride home from my house I suggest bringing a towel or small blanket. This is just in case your new puppy decides that the car ride is not going to be "fun", but instead it will be a way to empty all the contents of his/her stomach out onto you or your seat. Not fun! So be prepared and bring a towel.
Seem OVERWHELMING!!!! Let me help you out…below are some Puppy Packages that I have put together to make your life a little easier….take a look.
———-ADDITOINAL PUPPY PACKAGES ———–
2 Week Foundation Training is no longer offered as of 11/2020 – We decided that 4 week F/T is much more effective in solidifying all the training we promise to complete. The pups simply needed more time to perfect the promises made below. We are sorry to see it go, but know you will appreciate the change.
4 Week Foundation Puppy Training ($1200.00 Total as of 1.1.2021)or some, potty training, crate and boundary training seems a bit overwhelming. This can be due to a busy schedule, the lack of know-how, or simply just being a huge task that takes a few weeks at the minimum. It can deprive you of sleep and much more. The crying at night, howling, the constant accidents and laundry at times seems ridiculous. Well I have devised a program that might assist you with this. Basically I will get your puppy on a feeding, playtime, potty, sleeping schedule for you. It does not create the perfect puppy, but it will create a foundation for you to be able to function the next day without being up through the night with a new puppy.
The program is basic really, from the 8 week old, pup will remain with me but be brought into our home (instead of our puppy area outside) and put into a crate where we will crate/potty train your pup for you. At night your pup will sleep in a crate or in the play pen….silently and happily. Your pup will be fed, treated, and trained as one of our own. At the end of the 4 weeks your pup should be trained to the best of THEIR ability in the following:
Potty Trained Basics – This DOES NOT mean you can give free run of house, it means pup will NOT pee in crate or play pen with out giving you warning as to what they need. It also means that you can safely leave your puppy for 4 to 5 hours spans during the day with no accidents.

Know his/her name

Potty in same area every-time so you can continue the same when pup goes home

Stay content through the night from 9/10pm till about 5-6am

Stay content in a playpen (no crying, whining, pooping, or climbing on) during the day (for 4 to 5 hours increments)

No biting

No Jumping

No chewing on your clothes or shoes

Will be introduced to leash at 9 weeks of age, by 11 & 12 Weeks pup will walk with you and be eager to move with you as close to healing as you can get for now.

Should be able to Sit on command…..

Training focused on working a good recall

Will go DIRECTLY to crate when coming into house

Socialized with smaller dogs to teach manners to avoid bullying

1 Final grooming at 12 weeks old

1 Additional set of shots at 11 weeks

1 Additional worming (12 weeks old
If you are interested in this additional training please let me know ASAP as spots are limited per litter and not offered on all litters due to scheduling.
___________________________________________________
Home Ready Puppy Package – $400.00 (2 day notice required)
Don't know what to purchase for your new puppy? Frustrated with dimensions and making sure you got everything you need to make you new puppy safe and comfortable? I have put together a list of everything you need to take your puppy home and be ready for anything. Let me do the driving and work for you, take home my Home Ready Puppy Package which includes:
Wire Crate (36″ x 30″ x 33″ for full size Poodle) with a "Grow with me" divider
Washable Crate Mat (Tan)
Crate cover
Play pen (24″ in height) – to use for boundary and potty training
Puppy collar 8″ to 12″ (Red, Black, Purple, Blue, Pink)
Puppy leash 6′ (Red, Black, Purple, Blue, Pink)
2 – 1 quart size stainless steal bowls with a non-skid rubber base
Undercoat Brush

Slicker Brush

Leash Attqacheent poop bag holder with bags

1 – 20lb bag of Kirkland Puppy Food

3 Month Supply NuVet Supplement
_________________________________
Want to do it all yourself…..keep reading…….I have put together a list for you to assist in cutting a little stress out.
Puppy Food – Yellow OR Light Blue Bag from Costco is fine
A puppies diet seems to be surrounded by so much controversy. Should you feed them food with corn in it, or a raw diet? What name brand is the best? What ingredients should you look for that should be avoided? All of these are good questions AND all of these questions have many, many answers. So I would like to share what I do for ALL my dogs.
I feed ALL my dogs the Costco brand Puppy Food below. I like this brand for several reasons, a few of the most obvious are that my dogs love it! They keep weight on with this food even though my dogs are very active, it has no corn, it easy to obtain by anyone no matter where you live, and it is very affordable for those of us with multiple dogs. To me there is no science to my decision….I use what works!
Kirkland Signature Super Premium
Chicken, Rice & Vegetables Puppy Formula
Fresh chicken, multiple whole grains, and fruits and vegetables make this formula the best choice for the best start to your puppy's life.
Guaranteed Analysis
| | | |
| --- | --- | --- |
| Crude Protein | 28% | Minimum |
| Crude Fat | 17% | Minimum |
| Crude Fiber | 3% | Maximum |
| Moisture | 10% | Maximum |
| Calcium | 1.2% | Minimum |
| Phosphorus | 1.0% | Minimum |
| Zinc | 225 mg/kg | Minimum |
| Selenium | 0.4 mg/kg | Minimum |
| Vitamin E | 250 IU/kg | Minimum |
| Omega-6 Fatty Acids * | 3.0% | Minimum |
| Omega-3 Fatty Acids * | 0.5% | Minimum |
| DHA (Docosahexaenoic acid) * | 0.05% | Minimum |
Ingredients:
Chicken, chicken meal, whole grain brown rice, egg product, cracked pearled barley, dried beet pulp, chicken fat (preserved with mixed tocopherols and vitamin E), potatoes, fish meal, flaxseed, natural flavor, brewers dried yeast, salmon oil (a source of DHA), millet, potassium chloride, salt, choline chloride, carrots, peas, kelp, apples, dried skim milk, cranberry powder, rosemary extract, parsley flake, dried chicory root, vitamin E supplement, iron proteinate, zinc proteinate, copper proteinate, ferrous sulfate, zinc sulfate, copper sulfate, potassium iodide, thiamine mononitrate, manganese proteinate, manganous oxide, ascorbic acid, vitamin A supplement, biotin, niacin, calcium pantothenate, manganese sulfate, sodium selenite, pyridoxine hydrochloride (vitamin B6), vitamin B12 supplement, riboflavin, vitamin D supplement, folic acid.
You can visit the site that I used to research this information – http://professionalpetfood.com/products/dogs/dry_food/chicken_rice_and_vegetables_puppy_formula/
Questions about corn and other foods in a dogs diet?
Questions about raw dog food diet?
Crate Training / Crate Types
Ok, Ok, These are two bad examples!!! They are funny though!! I crated an entire litter in one crate for a few minutes while I cleaned up poop, and of course my boys are jokesters! Poor Penny!
Dog kennel, crate, carriers. Soft sided, wood, plastic, metal. What size should you purchase? What brand is best? Should you get a bed to fit inside? Should you buy one that grows with your puppy, or get several different sizes? So many questions…. and I will have a few answers for you. They may work for you…. and then again…. you may find a better solution. So here goes.
I am a firm believer is crate training! By definition crate training is: "Crate training is the process of teaching a pet to accept a dog crate or cage as a familiar and safe location." (Wikipedia) Why crate train? I think that there are several reasons to crate train, and here are a few:
Assists with "Potty Training"
Gives your dog a "Safe" place to escape to, away from everything else.
Teaches your dog that you are in control, you are the boss, you are "Alpha". – You call the shots.
– What do I mean when I say "Teaches your dog that you are in control"? What I mean is that when you introduce your puppy to a crate, put him/her in it and then close the door behind them, you just took all their freedom away. You are now in control of when your puppy comes out. Crate training teaches your puppy that you are the Alpha, you have the say so. Of course you never want to abuse that control and you always want to reward your puppy for going into a crate willingly.
– How does it assist is Potty Training? Well basically stated…. an unsupervised puppy will pee and poop anywhere and everywhere they want to. But a crated puppy (in the proper sized crate) will not generally do their business in their own sleeping quarters. My rule of thumb is: Unless I am holding or directly interacting with a puppy, they are crated. About every hour or so I take them outside to do their business, get a drink, run around and then off to the crate again for another hour. Slowly I extend the time the puppy stays out of the crate and within an established boundary to see whether they will have an accident or not. It works like magic. However! The key is YOU! You must be consistent!!!
– Safe place? Isn't the crate a punishment? The answer is Yes/No. Yes it is a punishment in the sense that a dogs freedom is taken away and is now in our hands. No it is not a punishment in that the crate is viewed to be your dogs domain. My dogs LOVE their crates, and they all know who gets which crate. When they are nervous, they run to their crate. When they want to be left alone, they go to their crate. I teach everyone in my family that when the dogs are in their crates, they are off limits because that is their space. And my dogs know it and love it!
So now, the next question is – How to choose a crate?
Next – Putting bedding down in a crate, when and what? When I have a new puppy, I put a towel in the crate. The reason behind this is that they have accidents sometimes, and it makes cleaning up after one, easier than if it was a nice, soft, 1in thick sleeping pad. After I feel comfortable with the fact that they won't have an accident, I put in a nice soft bed for them. Never use newspaper or a pee pad, this will only encourage them to use their crate as a bathroom. Below are a few links that I think have some useful information for your review.
Crate Training a Puppy or Dog – http://www.perfectpaws.com/crt.html
I hope all this information was useful to you, and if you can think of anything else that you would like this page to contain that you think would be helpful, please drop me a message using my "Contact Us" page.
Have a great day!
LeeAnna
Puppy Stages of Development – The following is copied from the website below:
https://www.cesarsway.com/dog-behavior/puppies/the-stages-of-puppy-growth-and-development
Neonatal period (0 to 2 weeks)
Puppies can touch and taste at birth, but that's about it. During this period, they are going to be most influenced by their mother (or mother surrogate) and littermates, and will start learning some simple social skills, coordination, and the ranking process. Mostly, they'll just eat — newborns need to have milk from mom or a commercial milk replacer about every two hours.

Transitional period (2 to 4 weeks)
Their eyes open, they stand and walk, their sense of smell and hearing develops, they wag their tail, teeth start coming in, and they'll even start to bark. By the end of this period, they should be able to use the bathroom on their own and see quite well on their own.

Socialization period (4 to 12 weeks)
This is the stage and timeframe where it's incredibly important to introduce your pup to other people and dogs. By five weeks, puppies are aware of their surroundings and start really enjoying playtime. Good experiences with people from weeks 5 to 7 will play a large role in how they continue to interact.But even though they'll start being influenced by people after about a month, ideally you want puppies to remain with their mother and litter mates for eight weeks to learn inhibited play biting and other dog socialization cues.By week seven, you may be able to start house-training your puppy. From weeks 8 to 10, your pup will go through a normal "fear" period that can be helped with training that is positive and encouraging. But the true training "golden time" is from 9 to 12 weeks, because your pup is actively working on social skills and paying attention to both people and litter mates.

Ranking period (3 to 6 months)
Think about this period as "elementary school age." Just like human children, dogs at this point are most influenced by their playmates — both dogs and people. During this stage, your pup will begin to understand and use ranking in terms of submission and dominance.Teething and related chewing (and chewing issues!) happen around this time, and when the puppy is about four months old, she'll go through another fear stage.

Adolescence (6 to 18 months)
Your pup now understands that he has a pack (which may consist of both humans and dogs) and his behavior will be most influenced by this group. You can expect your dog to challenge you more as he explores dominance and his role in the pack.Dogs that aren't spayed or neutered will also start exhibiting sexual behavior during this period, and a second chewing stage will likely begin somewhere between 7 to 9 months.
By knowing what to expect and at which times, you can better prepare yourself to deal with specific behaviors so you handle them in a way that is both positive and encourages the kind of behavior you want.