Welcome to Springer Clans Pocket Poodles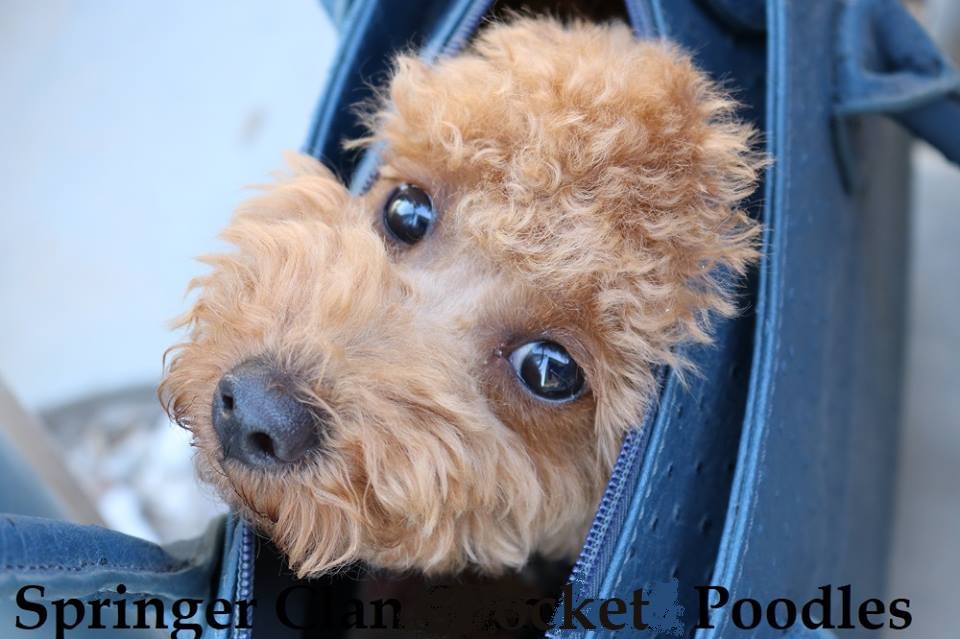 So Tim and I have decided to try out hand at breeding quality, even tempered, family oriented Tiny Poodles for you! We have started out with one of the best females we could ask for….Jazzy. She is a very tiny Pocket Poodle with the attitude and energy of a Standard Poodle. I have always said that good looking Toy Poodles are hard to find, and that is a fact! We have searched and searched, and the credit has to go to Tim for finding Jazzy. We have raised her just as we would a Big Poodle and so she has the mentality of a well trained Standard Poodle as you would expect from Springer Clans Dogs. We are happy to introduce our new breeding program for Toy Poodles! It won't be for another year or so till we have produced our first litter, but we want you to grow with us, watch us do our thing with our babies.
So enjoy!
Springer Clans Rufus Rules The Roost
Meet Rufus – our very first Red Stud for our Pocket Poodles line. He is a DEEP red Toy Poodle, he currently weighs 5.1 lbs and should finish no more than 7.1 lbs. This boy steals the show for sure! He is absolutely a joy to have around, always a fun little boy. Loves people and is brave like a big Poodle. His color…well…OMG…he has got it all including brains. The boy has NEVER had an accident in our house from 6weeks old till present…THAT is amazing for a tiny. He will with out a doubt produce some amazing little ones for you!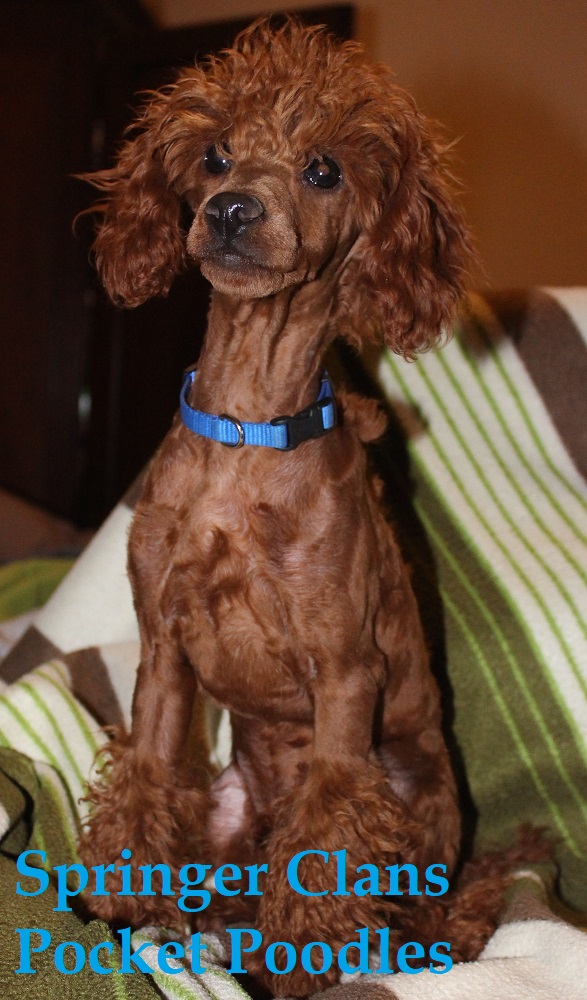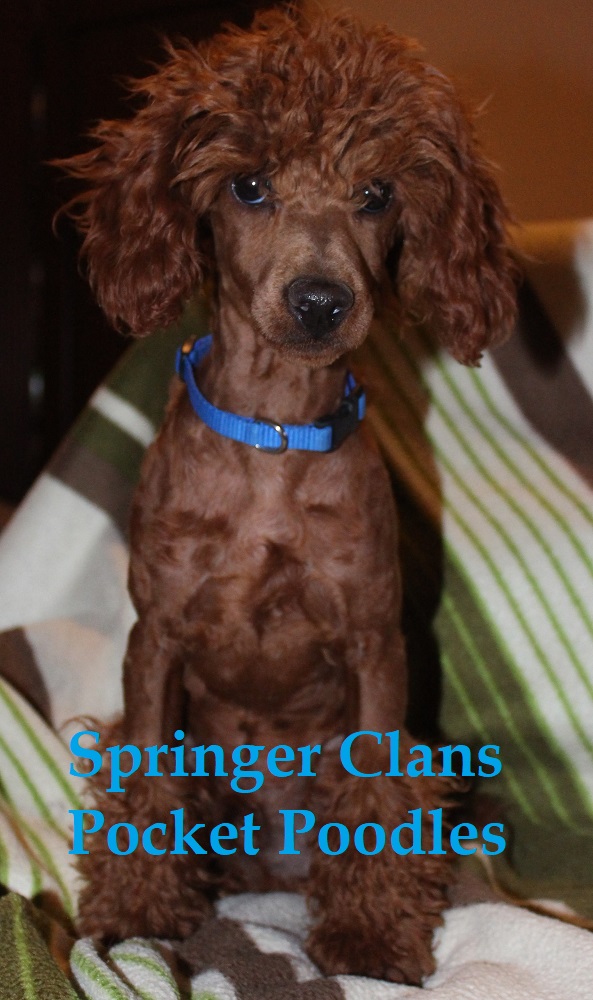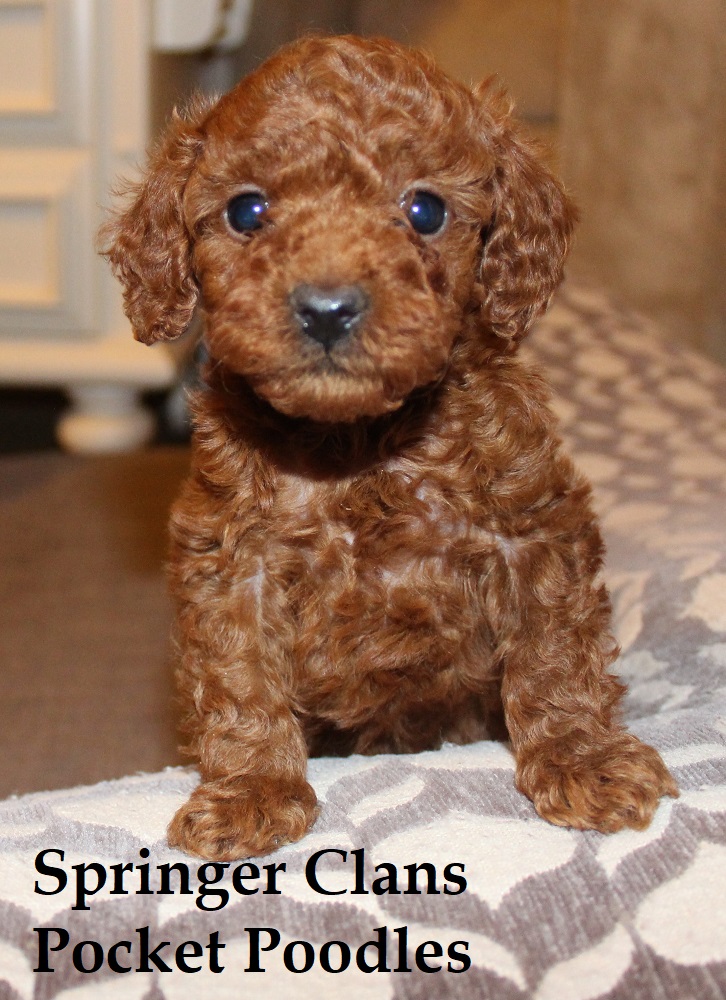 Springer Clans Twinkle Toes Jasmine – Jazzy
Jazzy our was our first Toy Poodle and we just love her to death. Tim is super attached and she is as loyal as a cell phone…always with him. She is a tiny girl just around 5 lbs. She has a great coat, quick mind, and great conformation. She comes from good lines and will throw just about any color depending on who we choose to breed her with. Very excited to see what kind of mother she is and what temperaments she gives us! We will be breeding her very soon.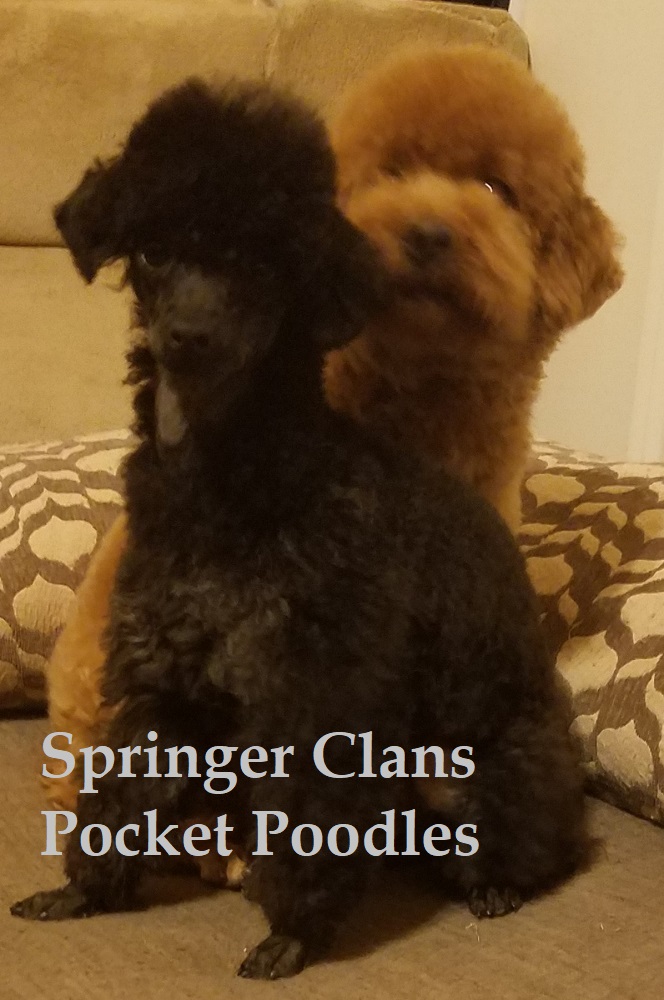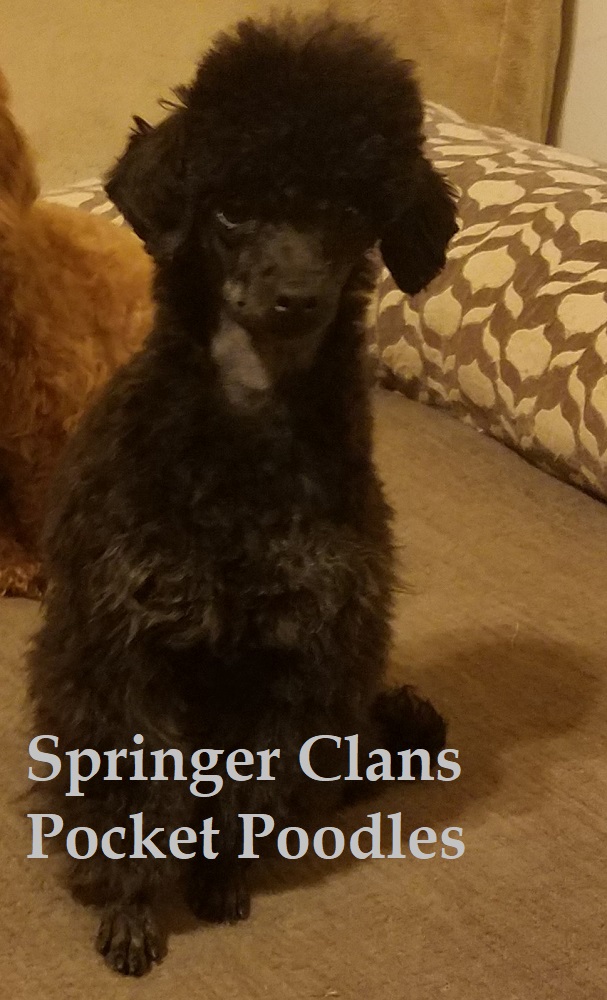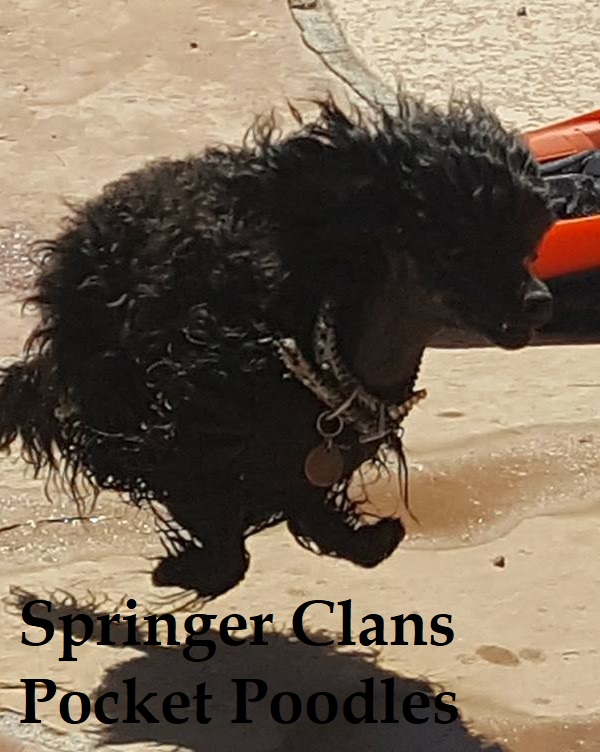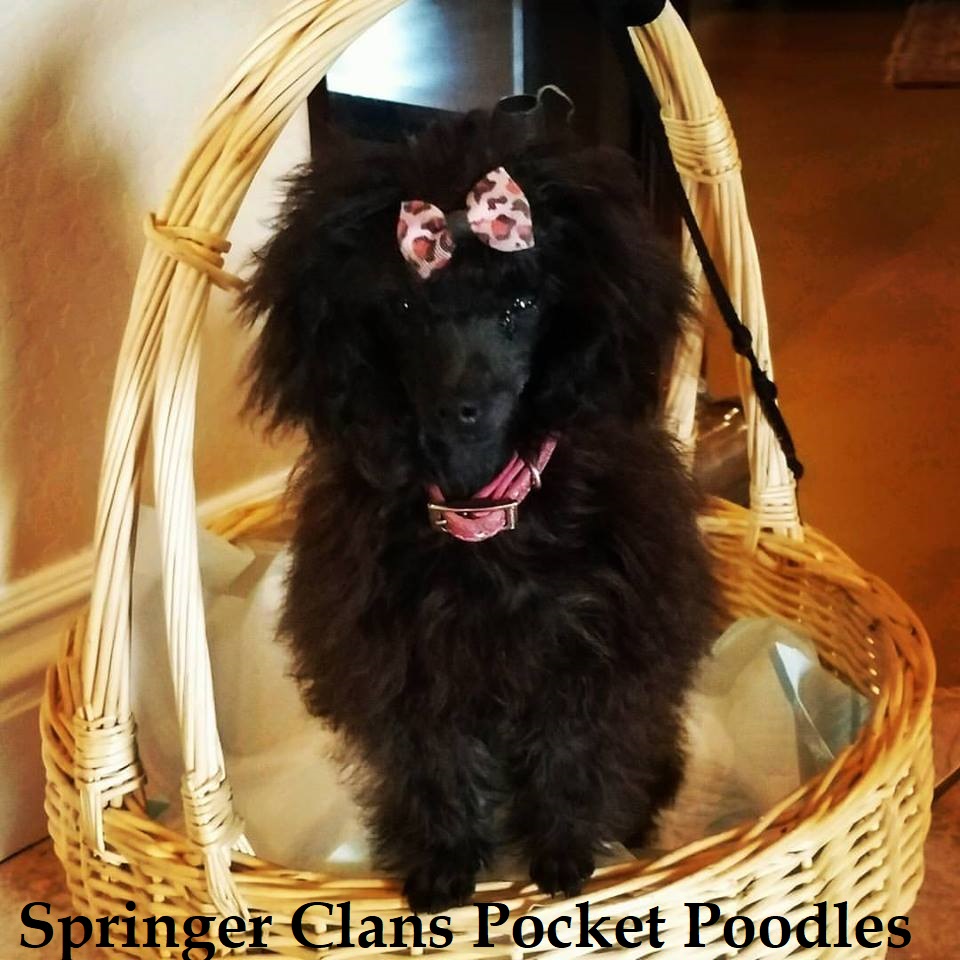 Springer Clans Little Sip of Brandy
Brandy is a nice Apricot Toy Poodle. She is a little bigger weighing in at 7.5lbs. She is FAST and athletic, obedient and loyal. She has a great coat on her. Brandy has not the greatest conformation….her back is a little long and her legs are a little short…but makes up with it with her attitude and willingness to please. She is a big dog in little dog's body! Everyone LOVES Brandy! We will possibly be breeding her with Rufus, as an experimental breeding to see if her genetics can be cleaned up. She comes from a good breeder most of the siblings have great conformation, so with a good pairing we can get some awesome looking pups for you!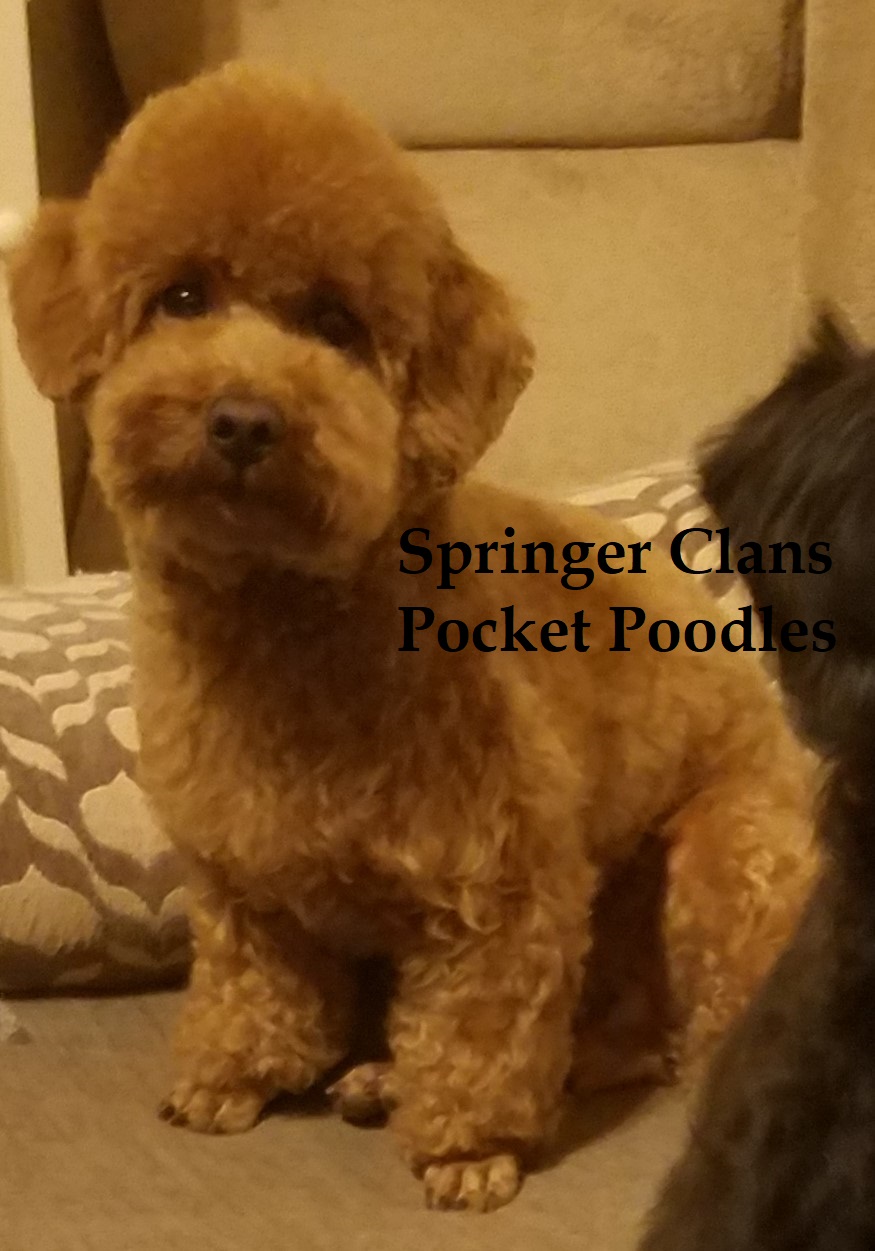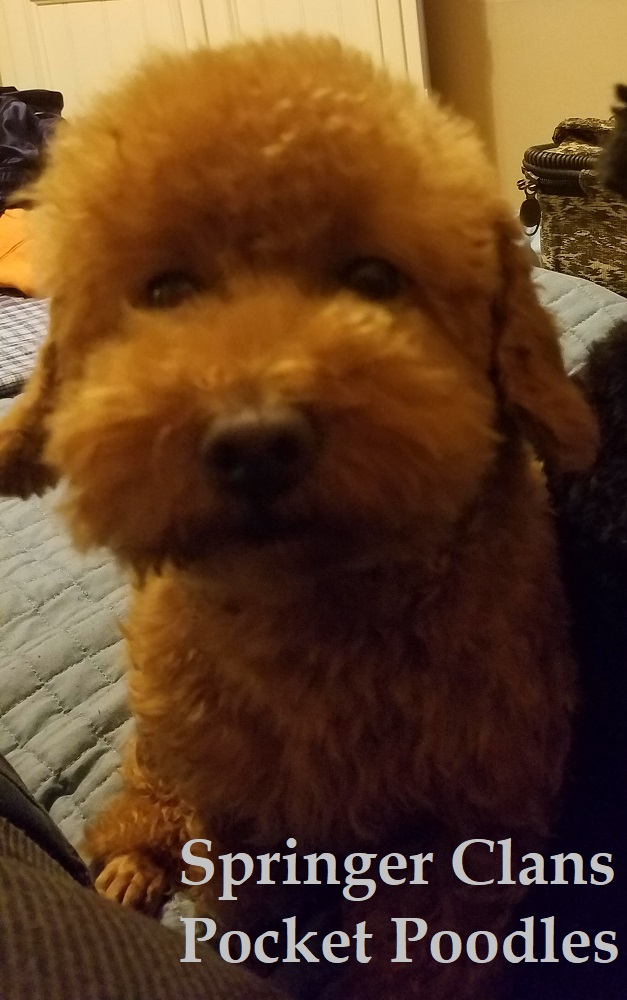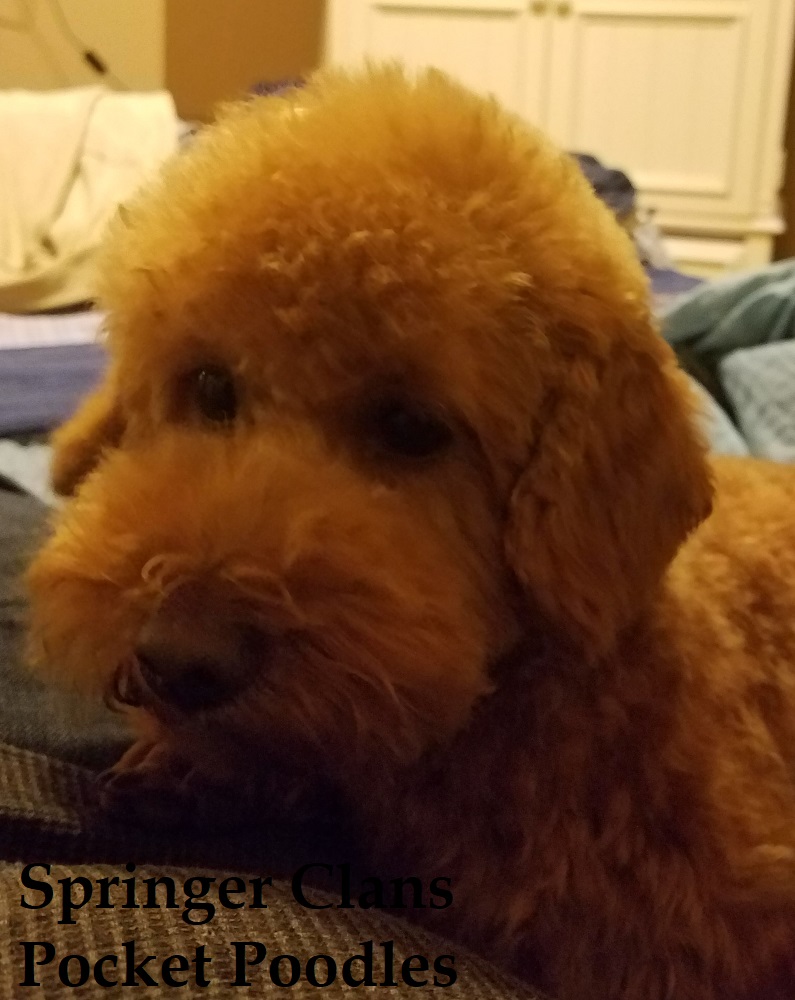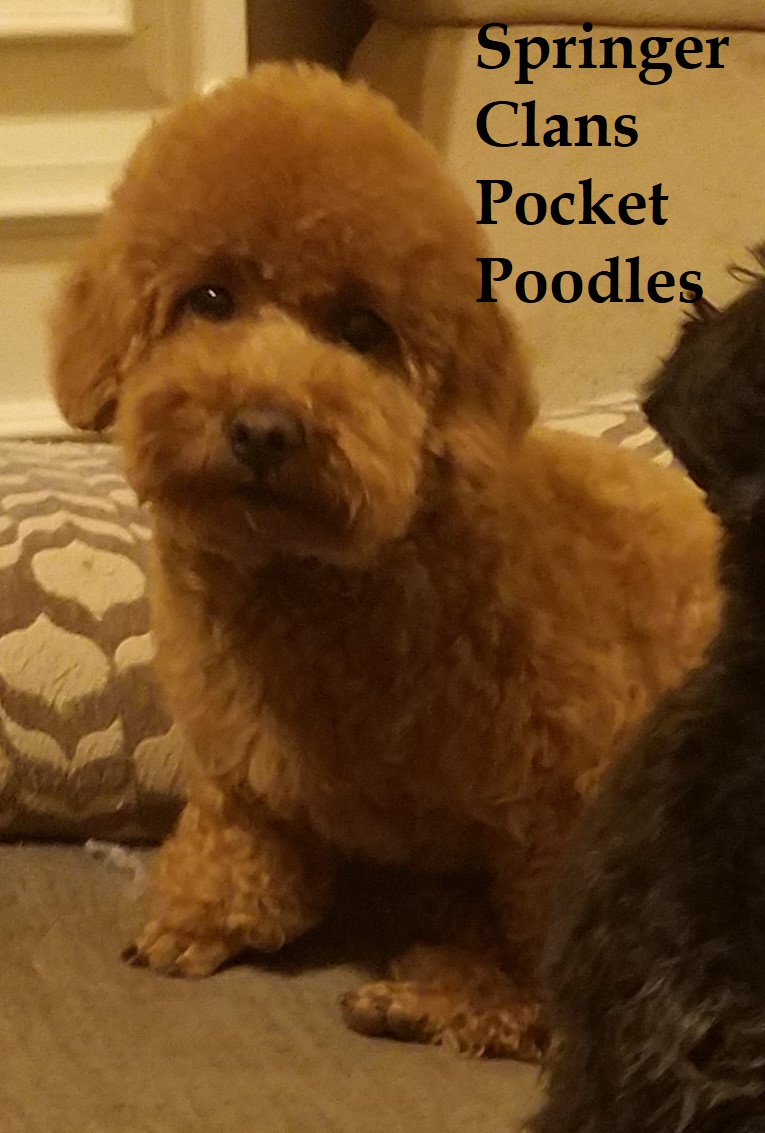 All our Pocket Poodles will be homed for $3000.00. Both Male and Female will be the same price and we will not be selling our pups to any Breeders unless we already have a relationship with you.
Puppy Packet (What pup comes with):
State taxes are included in price
AKC/UKC Documentation – (UKC documentation for certain litters) All of our puppies are sold with "limited registration" unless otherwise stated. (If you need definition of "limited registration" please scroll to bottom of this page.)
Included AKC Fees with the purchase of your puppy (at full price) is the cost of registration to AKC, this is the breeders responsibility to mail to AKC or UKC. You will choose your puppies name, yet all our puppies will carry the prefix of "Springer Clans"…. after which will be added your chosen name.
Included Micro-chipping with the purchase of your puppy (at full price) is the complete micro-chipping of your puppy and fee's associated with the registering of the chip with AKC Reunite.
Copies of any AKC/OFA certificates of Sire & Dam
2 Year Health Guarantee
Lifetime Genetic Disease Guarantee For Tests Parents Passed
Vet Exam and Clean Bill of Health
All Health records including 2 sets of shots and 2 worming's
Photos of the Sire & Dam along with ancestors as far back as we have available.
A sample of NuVet – A high quality supplement to keep your pup on track
A syringe of a suppliment for low blood sugar
Piddle Pad
Chew Toy & Raw Hide
A quart size bagged sample of what they are currently eating, Kirkland Puppy Food from Costco
A small amount of Diatomaceous Earth and instructions
A blanket with the scent of Mom and siblings to assist with re-homing transition anxiety issues
A doll with the scent of my family to assist with anxiety
All our contact information so that you are able to have any questions or concerns addressed.