The Clans Black Pearl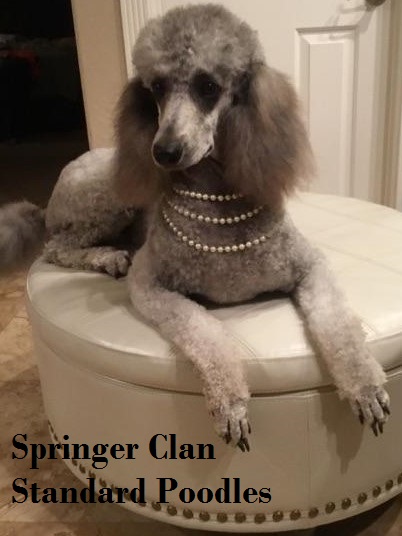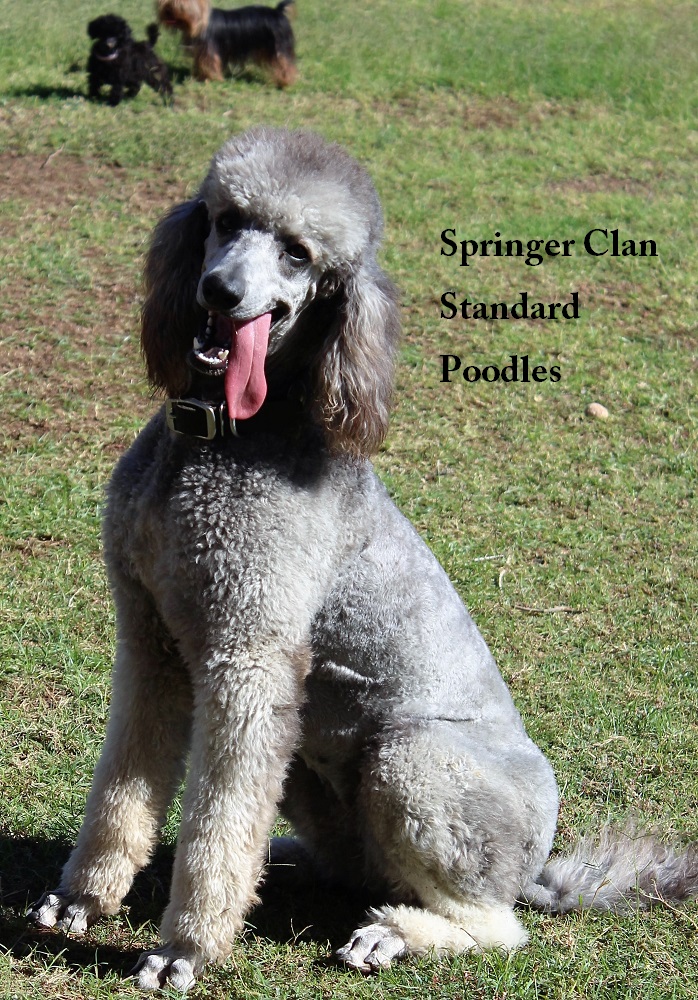 Pearl will be the foundation of our Silver lines. Pearl came to us through a series of events that told us she was just meant to be part of our Poodle family and she fits in perfectly. Her genetics are new to this country since her close ancestry is from both Russia and France. Silvers are going to be a new adventure, led by my husband, Tim, who fell in love with this fun, ever changing color.
Pearl now lives with her Guardian Family – Alan & Judi Max here in the Valley
Pearl is spunky spit fire, and we just love her so much! She moves with a careless effort that draws other dogs to her, they just can't help it, she is so fun loving. Her coat is a fantastic silky soft, she holds her tail high a proud, and prances around like she owns the place. Her beauty and movement is coupled with her incredible mind. Obedient, and smart is this girls thing. She is more gamey (she likes to hunt) than we expected, yet we can call her off in a second. She doesn't bother our chickens much, but if she finds a dove that the cats have eaten, she will run around with it like a prized blue ribbon.
A Note from Pearls Foster Mom – Judi Max
"I asked LeeAnna if I could write something that is primarily being written for people who already have, or plan to have, a Pearl puppy. Our dog ownership over 51 years of marriage started out with an Aussie puppy for our daughter. As the years passed, we ended up owning two reddish colored golden retrievers, five Westies (three of whom were rescues), seven Bearded Collies (all who herded ducks, sheep and cattle in numerous competitions with my husband as the handler), and one poodle (a rescue). Our first Beardie, Casey, was the "love of his life." But in the past year Pearl came along, and my husband found himself with a second "love of his life." Pearl is extraordinary. Tim and LeeAnna did a fantastic job of raising her. She came to our home with two long established Beardie residents, and she won them over in about two minutes. Pearl is always so happy. She loves to play, yet she is so quick to obey any and all commands, and, in addition, she is extremely smart. I describe her as being "perfect." Our friends who come to visit fall in love with her. I hope all of you get as much pleasure from your Pearl puppy as we are receiving since Pearl entered into our lives."
Judi Max
Family Affair's The Clans Black Pearl – Documentation
Height – Still Growing" at the shoulder
Weight – _____ lbs
10 Generation COI -______% (Under 10% is desirable) Information found in Poodle Pedigree website
VetNostic – Neonatal Encephalopathy w/Seizures (NEwS) – Normal – Certificate Below
Vetnostic DM (Degenerative Myelopathy) – Normal – Certificate Below
Vetnostic von Willibrands Disease Type 1 – Clear – Certificate Below
Vetnostic Color Coat DNA Test – B/B – Does not carry Brown and cannot produce brown – Certificate Below
Vetnostic Color Coat DNA Test – Carries 2 copies of Dominant Black Gene – Certificate Below
Vetnostic Color Coat DNA Test – Does not carry D/D – (Dilute gene) Will produce full color – Certificate Below
DDC – Hyperuricosuria – CLEAR – Certificate Below
DDC – PRA – prcd – CLEAR – Certificate Below