Springer Clans Sasha "Girl On Fire"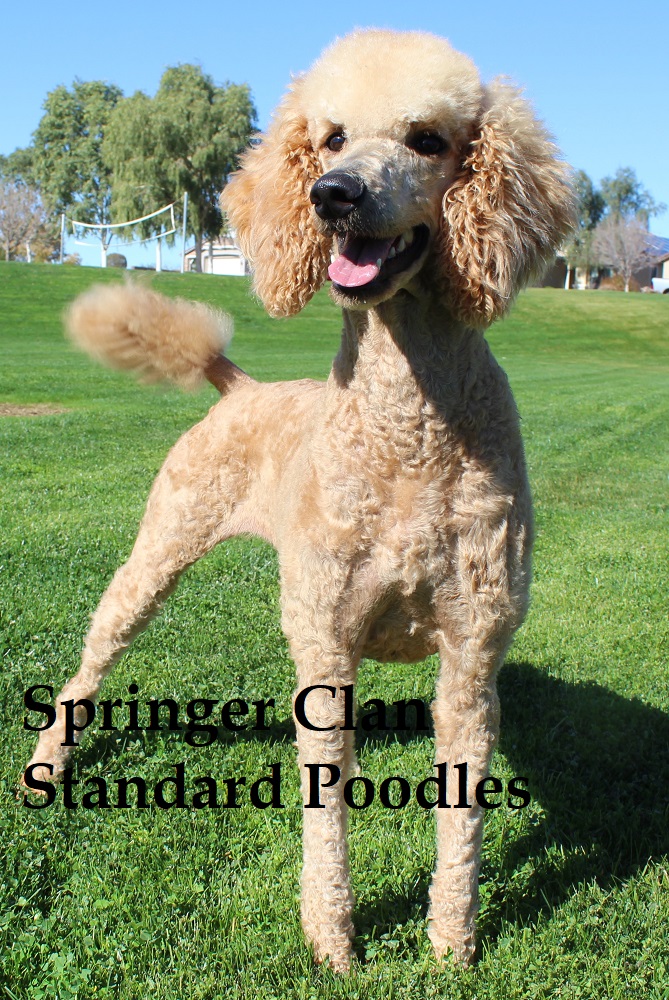 Sasha is the very first puppy that I have kept out of my own breeding. She is a nice Apricot with Black points.
Sasha has grown into a very sporty, loyal, intelligent companion. She will defend this family with her life, I am sure of it. She moves with grace, yet power and focus. Sasha has a high prey drive that is tempered by her deep seated desire to be an obedient girl for the ones she loves, THAT is intelligence. Her coat is one of the riches Apricots I have ever seen which seems to get darker and darker the more she matures. Sasha is not as tall as her Dam and yet her muscle tone is larger and she is very, very fast. I affectionately call her from my "Oops litter" since I never planned to have a litter out of these two (Bob and Charlee) Charlee decided to have what my Vet called a "Phantom Heat". And what a wonderful surprise she and her brother (Kramer) have turned out to be. Great temperament, nice apricot color, Bobs rich coat but Charlee's feisty personality. Love, love, love this girl. She is one to watch. She is owned and raised by my daughter (Kylee) who is a Mobile Groomer (Springer Clans Poodle Grooming) and goes with her most days of work which has helped Sasha mature and expand what she is exposed to.
Take a look at the video I posted on Facebook of her getting some milk while I am milking our goat one night. Hilarious!!!
Click to the left to see video – Post by Springer Clan Standard Poodles.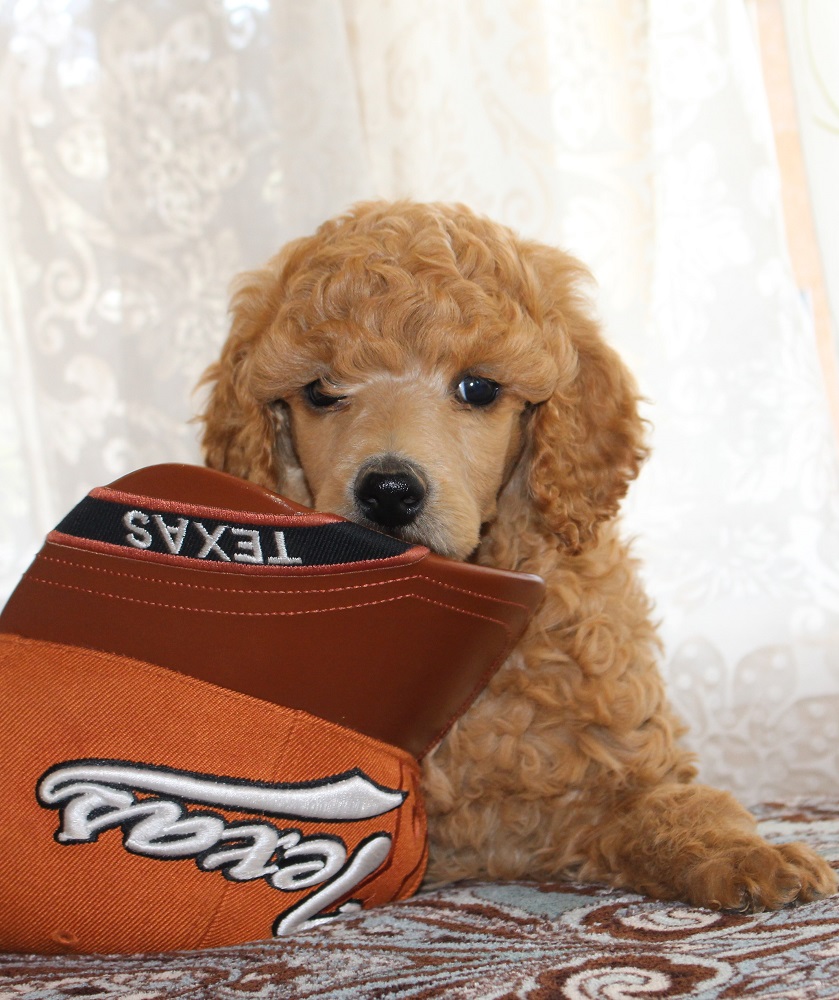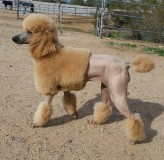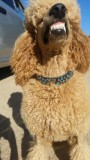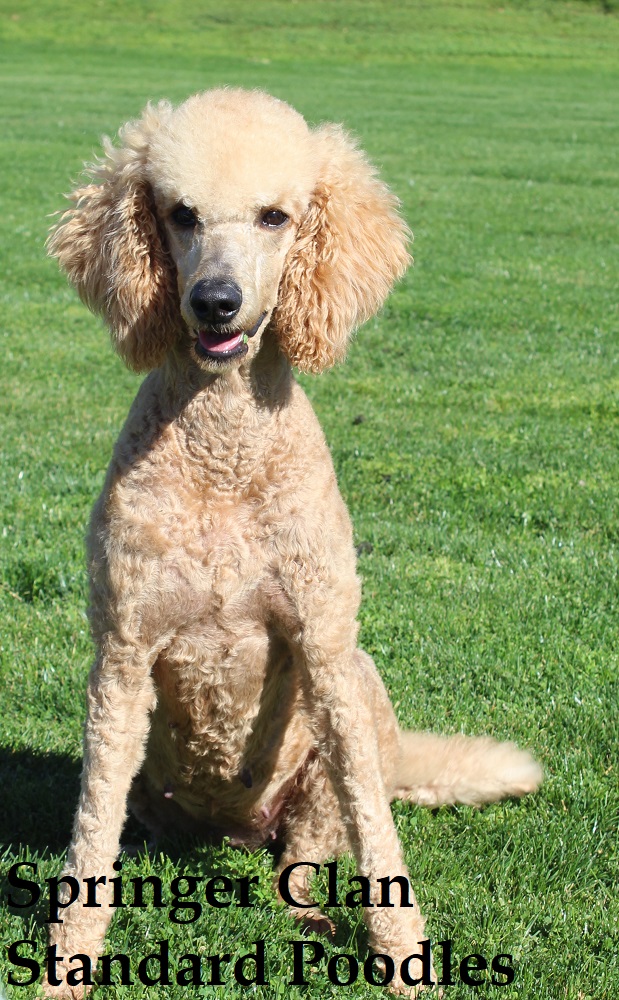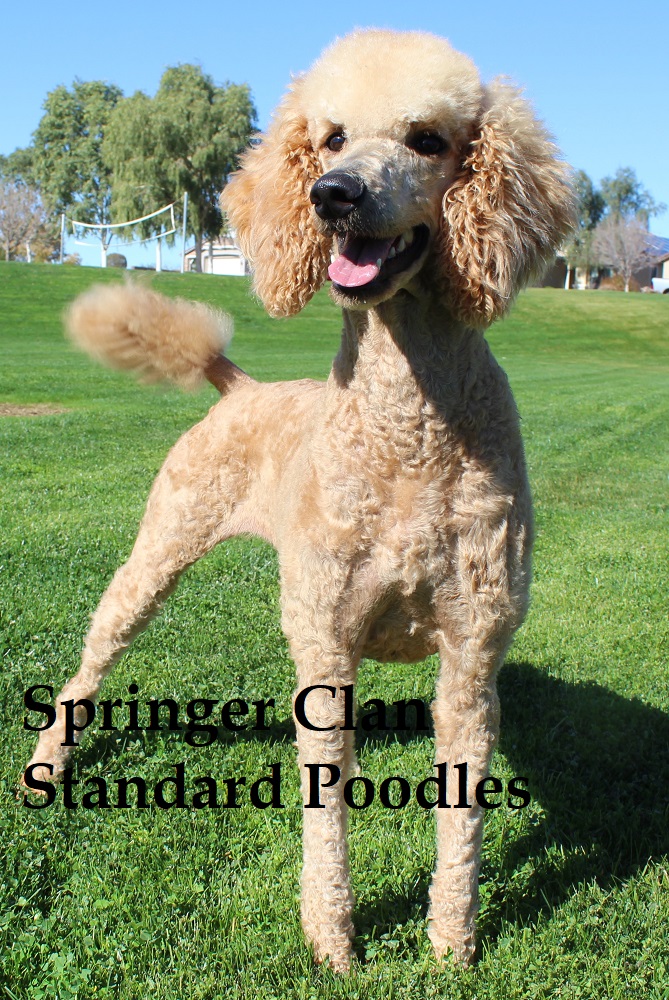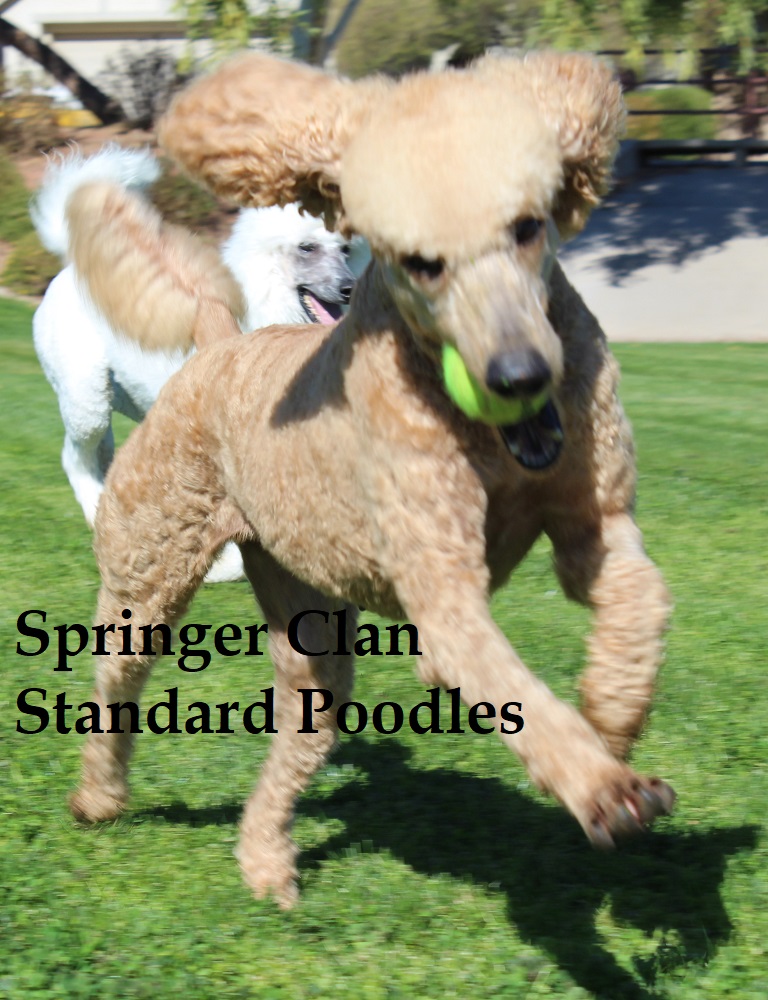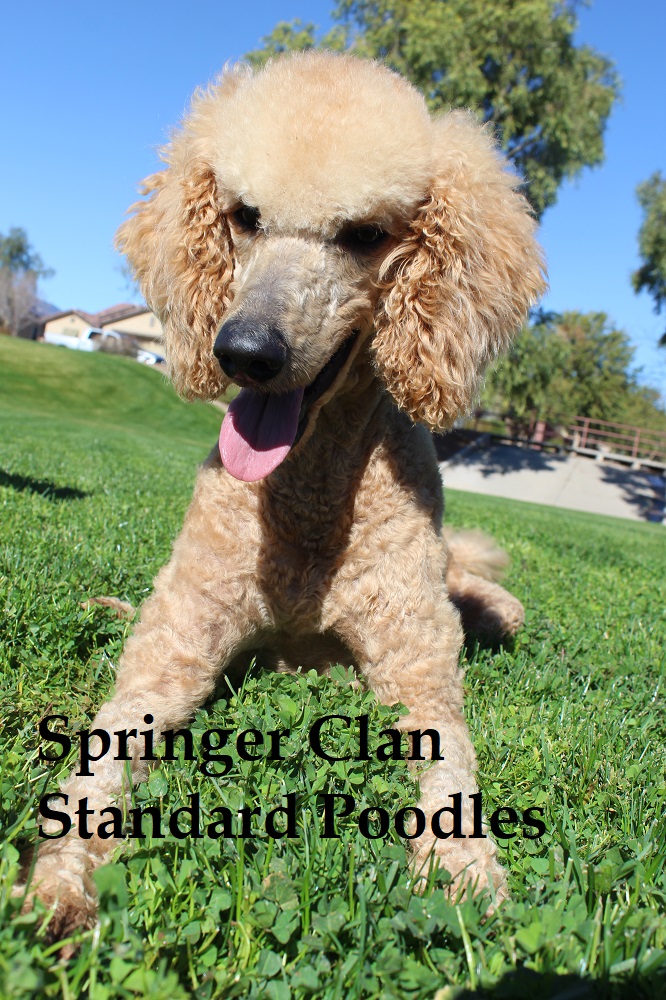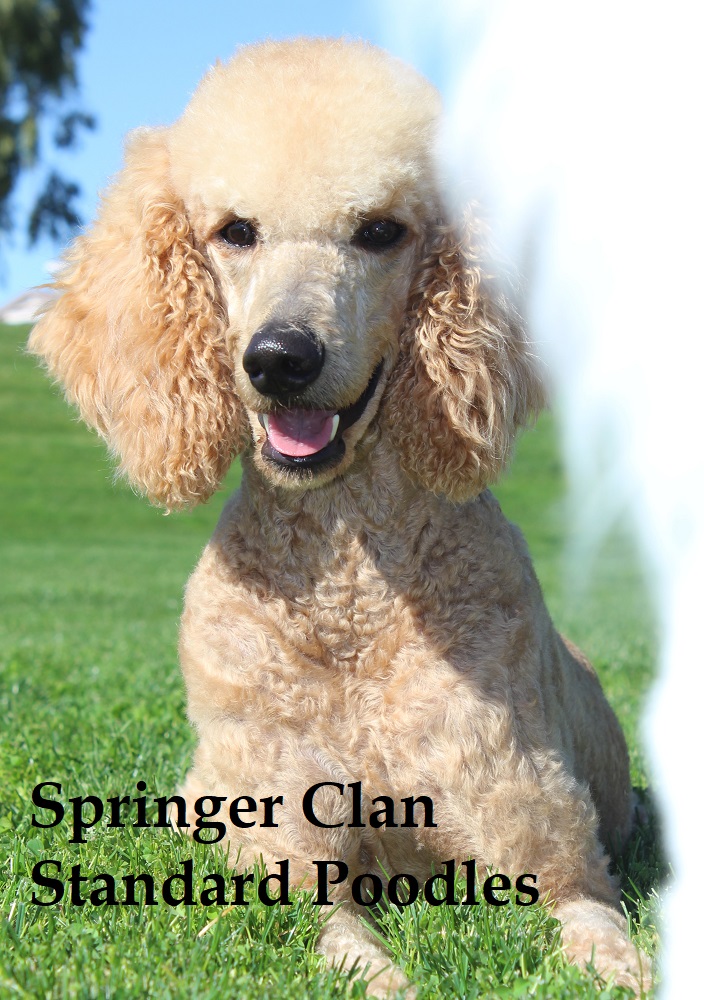 Sasha is out of : Springer Clans Charlee My Bonny Lass and Springer Clans Bob.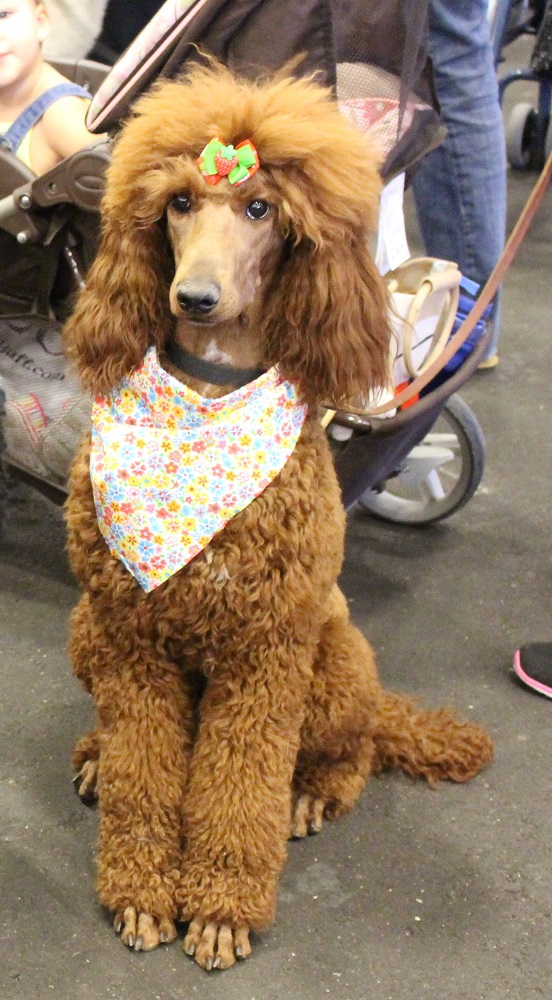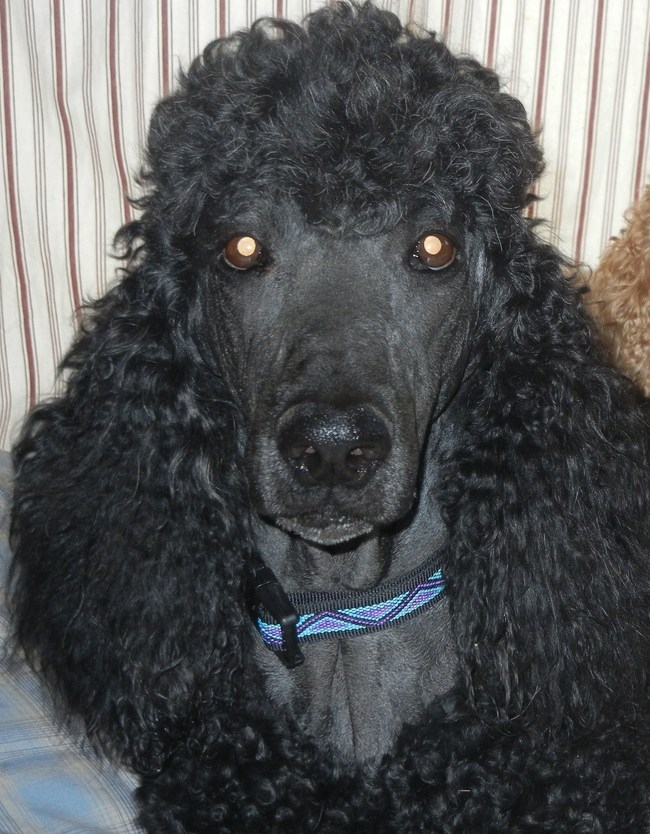 Sasha's Genetic Information, Certificates, and DNA Testing:
10 Generation COI – 10 Generation 0.03% (Under 10% is desirable)
OFA – Neonatal Encephalopathy w/Seizures (NEwS) – Normal – Certificate Below
OFA – Degenerative Myeleopathy – DM – Normal – Certificate Below
OFA – Von Willebrand Type I – Clear – Certificate Below
Coat Color Testing – Black/Red – BB (Does not carry Brown Gene) – Certificate Below
Coat Color Testing – ee (2 sets of Red Genes) Certificate Below
Hip & Elbow OFA Certified – No Evidence of Hip Dysplasia – Certificate Below
Sasha – Springer Clans Sasha Girl On Fire – AKC Certified Pedigree