Springer Clans Hey Mr. DJ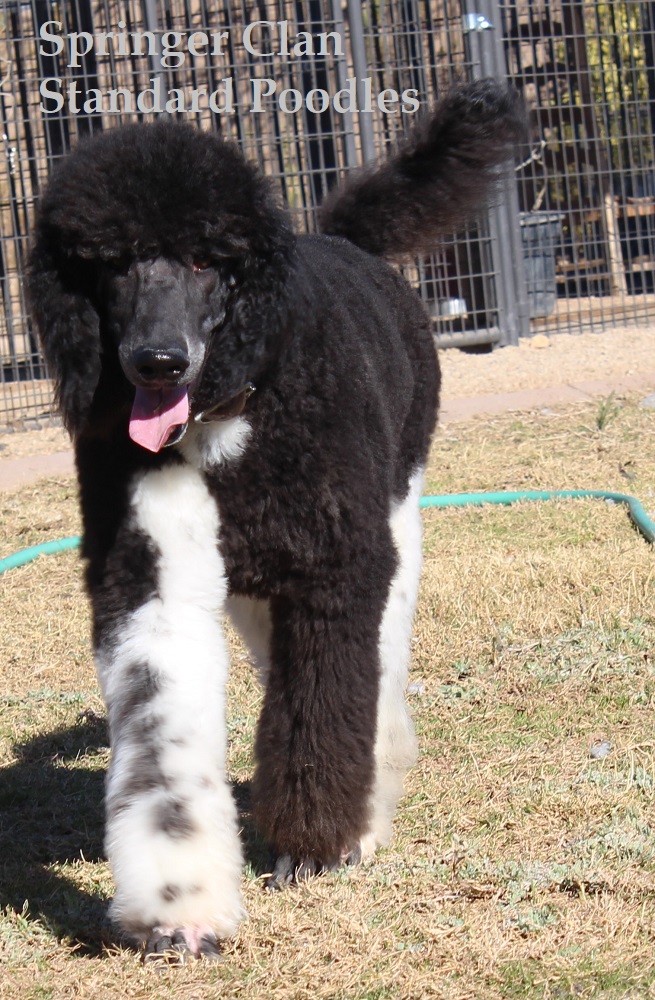 DJ is our very first Parti (multi colored) Stud. He is at the moment 6 months old and he may finish Blue with splashes of Sable, which would make him a Tri-colored Parti Poodle. This would also be a first for us. DJ was bought from M. Coniglio, a reputable breeder in the Las Vegas area, and comes from good stock full of Show Titles, Good testing, and nice conformation. DJ's Sire is also a Service Dog mentality, a lover, devoted to humans. DJ carries the same mentality, always wanting to be around humans over other dogs. He is very smart and a problem solver, but with consistency and a firm/loving hand, and clear boundaries he has learned very quickly what is expected of him her at The Springer Clans Ranch…THIS is what I wanted to bring to our breeding program with Fly (Justin's Service Dog). Once DJ has passed his genetic testing and an exam by my vet to assess his hips and overall wellbeing, I will breed him to Fly for a magnificent litter of Parti Service Possibilities. I am excited to raise this boy in our home and keep him for many, many years. He will be one to watch.
DJ has scissor teeth, a smooth gate, nice square body, fluid movement, and a confident attitude. His coat thus far is easy to work with and very soft. His points are very black at the moment, if he is indeed a Blue or Sable, he will fade out nicely, which we will watch.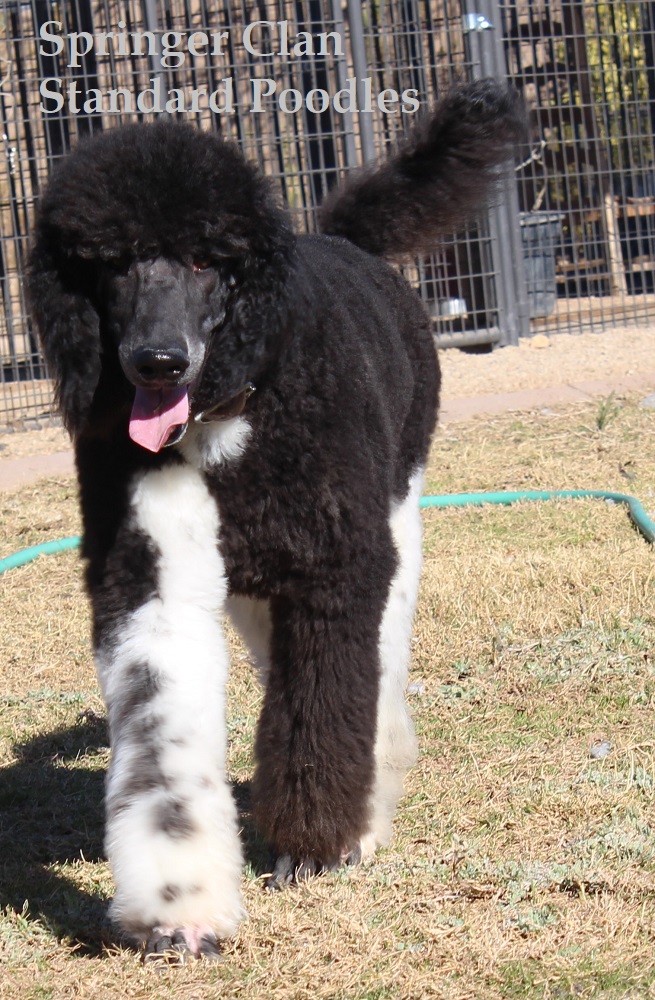 DJ will be a big boy – future measurement
Weight –
DDC – Degenerative Myelopathy – Clear – Certificate Below
DDC – Von Willebrand Type I – Clear – Clear – Certificate Below
Vetnostic – Neonatal Encephalopathy – Clear Certificate Below
DDC – Color Panel for Brown – B/b (carries 1 gene for Brown) – Certificate Below
DDC – Color Panel for Dilute – D/D (carries no gene for Dilute) – Certificate Below
DDC – Color Panel for Red – E/E (carries no gene for Red) – Certificate Below
DDC – Color Panel for Parti – S/S (carries 2 genes for Parti) – Certificate Below
DDC Veterinary – Progressive Retinal Atrophy Disease – Clear – Certificate Below
DDC Veterinary – Progressive Rod-Cone Degeneration Disease – Clear Certificate Below
DDC Veterinary – Uric Acid (Hyperuricosuria) Disease – Clear Certificate Below
OFA – Hip Certification – To be completed at 2 years of age, possibly earlier (18 months) Prelims