Springer Clans Classic Toblerone – aka Tobie
SCSP Very first Brown Stud in training – Springer Clans Classic Toblerone – A confident, loving guy, with a coat to die for! So dark brown he looks black at times!
Tobie is a very confident dog. He loves his humans, and protects them jealously. He learns quickly when a schedule is clearly laid out. He has produced an entire litter of 11 Browns and entire litter of 11 Blacks. Temperments of his offspring vary as does size, but they are all loving and highly trainable with many already beginning Service Dog and Therapy Dog Training.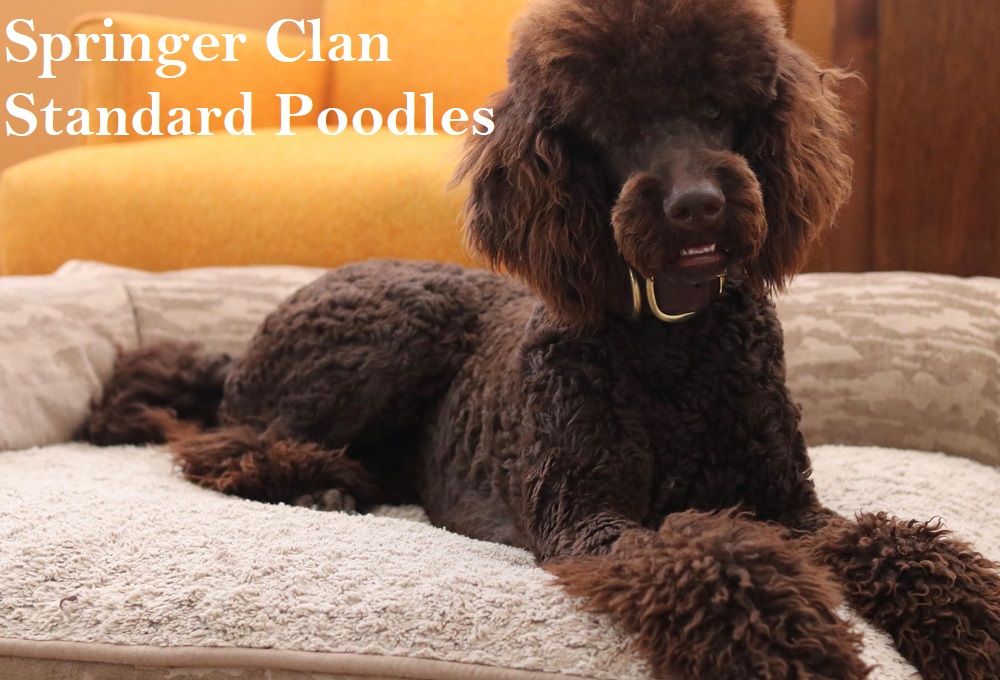 Height – 28in at the shoulder
Weight – 63.2lbs – 6.19.2019
DDC – DM (Degenerative Myelopathy) – CLEAR Certificate Below
DDC – Von Willebrand Type 1 – CLEAR – Certificate Below
Vetnostic – NEwS (Neonatal Encephalopathy w/ Seizures) – Coming Soon
DDC – Color Panel for Brown – bb carries 2 brown genes
DDC – Color Panel for Red – EE does not carry red
DDC – Color Panel for Fading – DD does not carry fading gene
DDC – Color Panel for Parti – NS carries 1 parti gene
DDC Veterinary – Progressive Retinal Atrophy Disease – CLEAR Certificate Below
DDC Veterinary – Progressive Rod-Cone Degeneration Disease – CLEAR Certificate Below
DDC Veterinary – Uric Acid (Hyperuricosuria) Disease – CLEAR Certificate Below
OFA – Hip Certification – Good Certificate Below